Event
USI 2015 Conference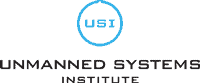 About USI 2015 Conference
The mission of this educational forum is to drive innovation and the effective use of unmanned technology throughout the private sector, government and commercial industries by bringing together thought leaders and innovators from all stakeholders in the unmanned systems landscape.
The conference will feature three full days of networking, workshops, keynote presentations and timely panel discussions addressing unmanned systems technology topics such as outlook and growth, international and domestic uses, investment opportunities, application to commercialization, technology challenges, and future uses.
More Information and Registration
To learn more about USI 2015 Conference, to register to attend or exhibit, please click below.