Event
US Trade Controls Compliance in Europe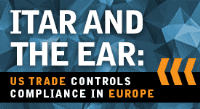 About US Trade Controls Compliance in Europe
Join us at C5's 5th Forum on ITAR and The EAR: US Trade Controls Compliance in Europe taking place this 31 January – 1 February 2017 in London.
Stay up to date on key developments in defence trade controls compliance such as the impact of Brexit and the US presidential election, the latest liability rulings as a result of the Yates Memo, the risks and benefits of the new Voluntary Disclosure requirements and critical differences between US and EU controls.
Aimed at companies and individuals working with US controlled items, whether dual-use, military or both, the event aims to offer practical advice and tangible takeaways from leading officials to cut through the red tape and enable businesses to better navigate the complicated world of export control compliance.
Conference Chairs Fred Shaheen, Chief Counsel, Global Trade for Boeing and Andrew Wood, Director, Strategic Trade Controls for Rolls Royce will lead discussions, share insight and answer your questions. With 13 presentations throughout the day including other companies such as Selex, Oppenhoff & Partner, OHB AG, Rockwell-Collins, General Dynamics, GE Aviation Systems, C5's Conference is set to be the key event dedicated to US controls and compliance in Europe.
New this year: Participate in hands on working groups throughout the two-day conference. Now there are even more ways to discuss real-life issues faced daily by international trade compliance and export control professionals working in the defence industries.
Register today and gain tangible insight on how you can navigate the complicated world of compliance and export control. Enter code "P15-999-UST17" to receive 15% off the conference ticket price.
Register for your Elitepass (includes Conference & Workshop) before 25 November and save an additional £150. Group bookings receive special rates, call +44(0) 20 7878 6888 for more details.
More Information and Registration
To learn more about US Trade Controls Compliance in Europe, to register to attend or exhibit, please click below.