Event Details
16-17 May 2018
HILTON LONDON OLYMPIA, 80 Kensington High Street, London, , , United Kingdom
Visit Website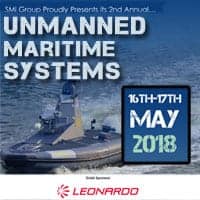 About the Event
SMi is delighted to announce the return of Unmanned Maritime Systems conference taking place in London on 16th and 17th May 2018.
SMi has recognised that there is a continuing need to consider how unmanned platforms will be integrated into the fleets of the future. Mixing the new 'information exploitation' techniques with a new generation of autonomous systems, navies are building strategic advantage by using these platforms for ISR, mine clearance and delivering lethal capability.
Unmanned Maritime Systems conference 2018 will build on the momentum last year's conference and the Royal Navy's exercise Unmanned Warrior have generated within the naval community. As autonomous systems – ranging from aerial drones to underwater submarines – continue to be developed as a solution to the operational requirements of maritime forces, unmanned systems are employed to tackle problems such as mine clearance – without any threat to front-line human personnel.
BENEFITS OF ATTENDING:
Listen to keynote briefings from senior flag officers within the Royal Navy such as Rear Admiral Keith Blount, Assistant Chief of Naval Staff, Aviation, Amphibious Capability and Carries and Rear Admiral Tim Lowe, National Hydrographer
Hear from senior naval officials from the Royal Navy, EUNAVFOR, Belgium and Germany on the latest advancements in unmanned technology
Learn how Unmanned Maritime Systems are changing the nature of warfare above and below the water
Gain access to key military stakeholders all seeking to develop their maritime capabilities within dedicated solutions zones where cutting edge unmanned, and autonomous technologies will be showcased
Discuss topics focused around key platforms and capabilities from UUVs for Mine Counter Measures to USVs for Anti-Surface Warfare
And more!
TOP MILITARY SPEAKERS:
Rear Admiral Keith Blount, Assistant Chief of the Naval Staff Aviation, Amphibious Capability and Carriers, Royal Navy
Rear Admiral Alfonso Pérez de Nanclares, Deputy Operation Commander European Union Naval Force Somalia, Spanish Navy
Rear Admiral Tim Lowe, National Hydrographer, UK Hydrographic Office
Captain Kevin Quarderer, Commanding Officer, ONR Global
Commander Jamie Sayer, Unmanned Air Systems – Mini Class TAA, Royal Navy
And more!
Register online by:
January 31st and save £400
February 28th and save £200
March 29th and save £100
Location Map
Visit Website