Event
UAV Technology Central and Eastern Europe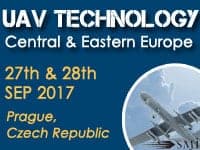 About UAV Technology Central and Eastern Europe
SMi's second annual UAV Technology Central and Eastern Europe conference returns to Prague this September.
The conference aims to examine the use of UAVs and how they can be better utilised during missions.
As the only conference in Europe focused on the procurement and acquisition of UAV capabilities for Central and Eastern European nations, this is an opportunity to gain a clear understanding of this unique market and be part of a community of leaders and experts that will impact the growth of these technological assets.
Confirmed speakers include:
BRIGADIER GENERAL TIMOTHY DAUGHERTY – Deputy Chief of Staff G3, US Army Europe
DR LINDA JOHANSSON – Teacher, Swedish Defence University
DR PETER FUHR – Tech Director UAS Research Center, Oak Ridge National Laboratory
DR SAMUELE MARTELLI – Embedded Computer Vision Specialist, Istituto Italiano di Tecnologia
LIEUTENANT COLONEL HRVOJE TOMSIC – Military Security Intelligence Agency, Croatian Ministry of Defence
LIEUTENANT COLONEL JAN DROZD – Assistant Professor, University of Defence, Czech Republic
LIEUTENANT COLONEL ROLAND RUNGE – Head ISR & UAS Division, German Air Force.
More Information and Registration
To learn more about UAV Technology Central and Eastern Europe, to register to attend or exhibit, please click below.