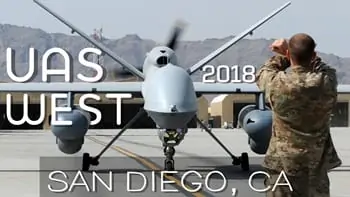 About UAS West Symposium
UAS West 2018 – the premier UAS Symposium on the West Coast – will take place in San Diego, CA, Sept 12-13 at the Sheraton Hotel and Marina.
This exclusive symposium will be an invaluable opportunity that will enable attendees to obtain the latest information on the emerging UAS technical capabilities, needs, and challenges from key DoD, Government, and Industry UAS subject matter experts. Over over 20 UAS SMEs will present the future of UAS Plans, Capabilities, Needs and Requirements for DoD, Government and Industry.
Technical briefings will include:
Major UAS Program Updates and Emerging Platforms Needs, Capabilities, & Opportunities
National Airspace – Detect & Avoid and Counter UAS
Cutting-Edge Mission Opportunities and Updates Within Homeland Security
Customs & Border Protection, Maritime Security, and FAA.
Featured presenters include:
Mr. Bryan Scurry
SES, Executive Director, Commander, Naval Air Forces, Commander, Naval Air Force US Pacific Fleet
DR. GREGORY POWER
OSD, Emerging Capability and Prototyping (EC&P) Liaison,United States Indo-Pacific Command (USINDOPACOM)
MR. TED MACIUBA
Deputy Director, Robotics, US Army Maneuver Center of Excellence (MCoE)
Assistant Police Chief Chris McGrath
Support Operations & Department Military Liaison, San Diego Police Department.
More Information and Registration
To learn more about UAS West Symposium, to register to attend or exhibit, please click below.