Event
UAS Conference 2014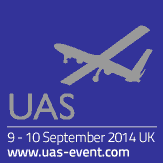 About UAS Conference 2014
UAS 2014 is the industry leading conference and exhibition examining the latest military, civil and cross-governmental applications for unmanned systems. In association with industry experts including the Unmanned Air Systems Capability Development Centre (UAS CDC) and Cranfield University, UAS 2014 offers a one-off opportunity to receive the very latest operational, regulatory and commercial updates from the unmanned community.
DIscount for UST Readers! Book using promo code UAS289 to secure a 10% discount on your delegate booking.
Key speakers at this conference include:
Keynote speaker: Mr Matthew Baldwin, Director Aviation and International Transport Affairs, European Commission

Dr Peter Downer, Air Strategy, FMC – Weapons, Evaluation & Capability Assurance, UAS Capability Development Centre

Mr Timothy Beard, Director for Advanced Air Warfare Development's Program Integration, Northrop Grumman Corporation

Mr Gerry Corbett, UAS Programme Lead, Intelligence Strategy and Policy, Safety and Airspace Regulation Group, Civil Aviation Authority

Mr Pat Mika, Watch Commander, Emergency Response, R&D Project Support, West Midlands Fire Service

Mr John Turton, Chairman, Automobile Division Eastern Centre, Institution of Mechanical Engineers
This timely event will encourage sharing of best practice and knowledge transfer amongst the full range of user sectors, including:
Public sector/Government

Military representatives

Border security, policing and law enforcement

Oil and gas: NOCs, Pipeline management and Service Companies

Global mining companies

Agriculture: farming, farming associations and farm management companies

Infrastructure and facilities

Disaster relief, search and rescue and other emergency services

Wildlife and conservation
UST readers can benefit from a 10% discount by quoting promo code: UAS289.
Register to attend this conference on: http://www.uas-event.com/
More Information and Registration
To learn more about UAS Conference 2014, to register to attend or exhibit, please click below.