Event
TUS Expo Europe 2019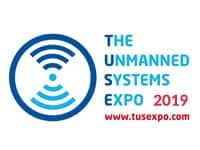 About TUS Expo Europe 2019
From 16 to 18 January 2019, one of the largest unmanned systems events will be held: The 4th Unmanned Systems (TUS) Expo Europe 2019. This time Rotterdam will welcome over 4000 international visitors (over 23.000 including Infratech 2019) and 200 participating organizations from all over the world.
In addition to the exhibition visitors can also participate in the TUS Expo Europe 2019 conference, delivering an end-user focused program covering: infrastructure, agriculture, construction, energy, maritime, AI and security.
The Exhibition and Conference of TUS Expo Europe 2019 – both on 17-18 January – will be held at Ahoy Rotterdam. In addition, several side events/ summits will be organized, like the Live Demo Day (Maritime & Aerial systems) on 16 January. The full program, including partners summits can be found on TUS Expo Europe website. The program is updated weekly on our websites.
Until 9 January 2019, you can register at www.tusexpo.com for free access to the exhibition of TUS Expo Europe 2019. You can profit from early bird pricing for the conference & summits until 19 October 2018.
———–
Infratech 2019
Simultaneously and at the same location as TUS Expo Europe 2019, Infratech 2019 will take place. With your TUS Expo Europe 2019 registration, you also get free access to the showfloor of the Infratech 2019.
More information: www.tusexpo.com/infratech
———–
Register to attend: https://tusexpo.com/registration/
More Information and Registration
To learn more about TUS Expo Europe 2019, to register to attend or exhibit, please click below.