Event
TU-Automotive Detroit 2016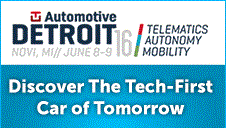 About TU-Automotive Detroit 2016
The TU-Automotive Detroit 2016 Conference & Exhibition (June 8-9, Novi, MI, USA) will discuss the need for industry collaboration to put automotive at the forefront in the IoT.
The 16th annual gathering will debate the importance of collaboration within auto companies, the industry and with new players for ensuring the delivery of new technology.
The show will have dedicated tracks on perfecting the user experience, cybersecurity, ADAS, the digital dashboard, amongst other topics to allow you to create a bespoke agenda that will tackle the challenges your business is facing. Topics include:
Moving from ADAS to full autonomy as the automakers start to reconsider the levels required to get there
Innovative business models to make integrated mobility services such as parking and traffic viable offerings
How automotive is connecting to the home, cities, and all 'things' great and small.

Why attend?
The leading companies from across the automotive tech. space, consumer electronics and IT will debate how enhanced capabilities for the car will implicate the industry and provide mutual opportunities for automotive and surrounding industries
150+ expert speakers, including Mercedes, Jaguar Land Rover, Fiat Chrysler, Zipcar and many more, announce the business models, next-gen tech. and growth strategies to help you master the new mobility paradigm within the broader IoT
Network face-to-face with 3,000+ senior execs. and build relationships across the automotive, mobile, wireless, digital, government and tech industries.
Save $100 on conference passes – enter the code "4312UMST" during your online registration >
More Information and Registration
To learn more about TU-Automotive Detroit 2016, to register to attend or exhibit, please click below.