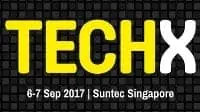 About TECHX Asia
As Asia's leading event on commercial applications of emerging technologies, TECHX Asia has been created to help facilitate this revolution. Bringing together leading minds, entrepreneurs and innovators across the entire spectrum of emerging technologies, the event covers how IoT, drones, AI, 3D, robotics, data & blockchain are being applied these to a variety of use cases across industries such as factories, logistics, transport, utilities and cities.
Over two exciting days, over 100 C-Level executives will share case studies from across the world, ensuring you can learn from the best of the best, then you can spend time debating with them during the small-group roundtable sessions, so you have time to foster relationships and make new business contacts.
FREE DRONE & ROBOTICS SEMINARS
In 2015 and 2016, we brought you The Commercial UAV Show Asia through a premium conference. But in 2017, we're bringing this Drone Theatre to the masses, making it FREE within the TECHX Expo! Get ready to learn about real world drone and robotics applications and case studies.
Technology is changing business. No industry is immune from the torrent of the digital disruption, from B2C companies right through to industries like logistics, manufacturing to city governments. Business leaders need to understand the various applications of new technologies for their industry in order to lead their organisation through the culture and business model change required to ensure they survive and thrive in the new digital economy.
Whether you're an industry technologist or a technology specialist, we've got something for you.
Be a transformer. Be a disruptor. Be brave. Be at TECHX.
Enjoy 15% off conference passes! Simply use this code "RRSP" when registering to enjoy!
More Information and Registration
To learn more about TECHX Asia, to register to attend or exhibit, please click below.