Event
SPIE Remote Sensing and SPIE Security + Defence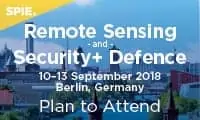 About SPIE Remote Sensing and SPIE Security + Defence
SPIE Remote Sensing and SPIE Security + Defence 2018, combines two conferences in one location. Call for Papers opens in early December.
Both these events offer engineers, scientists, programme managers and policy makers access to the latest information impacting their areas of interest. Learn more about satellite-based imaging systems and the data generated by them, as well as optical science technologies for advanced security and defense systems.
SPIE Remote Sensing focuses on the latest developments in earth observing systems, technologies and applications. Covering these conference topics:
Remote Sensing for Agriculture, Ecosystems, and Hydrology
Remote Sensing of the Ocean, Sea Ice, Coastal Waters, and Large Water Regions
Sensors, Systems, and Next-Generation Satellites
Remote Sensing of Clouds and the Atmosphere
Optics in Atmospheric Propagation and Adaptive Systems
Active and Passive Microwave Remote Sensing for Environmental Monitoring
Image and Signal Processing for Remote Sensing
Earth Resources and Environmental Remote Sensing/GIS Applications
Lidar Technologies, Techniques, and Measurements for Atmospheric Remote Sensing
High-Performance Computing in Remote Sensing
Remote Sensing Technologies and Applications in Urban Environments.
SPIE Security + Defence offers access to the latest research developments in sensing, data and signal analysis, optronics, quantum science, and optical technologies. Covering these conference topics:
Target and Background Signatures
Electro-Optical and Infrared Systems:Technology and Applications
Electro-Optical Remote Sensing
Technologies for Optical Countermeasures
High-Power Lasers: Technology and Systems
Advanced Free-Space Optical Communication Techniques and Applications
Emerging Technologies
Millimetre Wave and Terahertz Sensors and Technology
Optical Materials and Biomaterials in Security and Defense Systems Technology
Counter-terrorism, Crime Fighting, Forensics and Surveillance
Quantum Technologies and Quantum Information Science.
Exhibition: 11 – 12 September 2018
Technologies + Applications Represented
From detectors and sensors to lasers and imaging equipment for the security and defense community while comprehensive coverage of sensor systems, data analysis, and satellite platforms are offered via the remote sensing side. See the full list below of technologies and application areas.
REMOTE SENSING:
Technologies Represented
Sensors systems and next generation satellites
GIS & LIDAR technologies
Adaptive optical systems
Optronics
Image and signal processing
Sensing in urban environments
Hyperspectral Imaging
Imaging components, equipment, and systems.
Applications Represented
Oceans, sea ice and coastal waters
Agriculture and hydrology
Atmosphere and clouds
Infrastructure and urban areas
Hazard prediction and mitigation
Planetary Exploration.
SECURITY + DEFENCE:
Technologies Represented
Electro-optical and infrared systems
Infrared sources, detectors and sensors
THz technology
High-power lasers
Quantum information security
Change detection.
Applications Represented
Unattended and unmanned vehicles
Target and background signatures detection and recognition
Counter-terrorism and defense
Infrastructure and urban areas
Bio-hazard and chemical sensing.
More Information and Registration
To learn more about SPIE Remote Sensing and SPIE Security + Defence, to register to attend or exhibit, please click below.