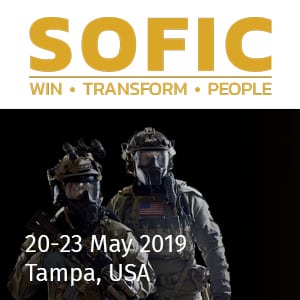 About SOFIC 2019
The Special Operations Forces Industry Conference (SOFIC) is the premier conference for the SOF community to interact with industry and to collaborate on the challenges, initiatives and way-ahead in delivering the most cutting-edge capabilities into the hands of SOF operators.
SOFIC provides educational sessions, demonstrations, interaction with exhibitors and many networking opportunities across the SOF community.
Listen to keynotes from top USSOCOM leadership and engage in discussions and Q&A sessions with USSOCOM's Component Commanders, Program Executive Officers, and various acquisition experts across the Command.
View the latest in SOF equipment and capabilities while visiting more than 400 exhibiting companies in the exhibit hall. Take part in an informal exchange with experts from the TILO, Small Business Innovation Research Office Contracting, and many more.
More Information and Registration
To learn more about SOFIC 2019, to register to attend or exhibit, please click below.