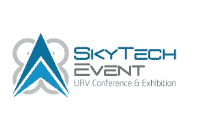 About SkyTech 2016
SkyTech 2016, organised in collaboration with SUAS Global, RUSTA & Flightpath Consulting, is a two-day tradeshow dedicated to advancing the global commercial UAV industry. Now in its second edition SkyTech is more than doubling in size and will feature 70 exhibitors, 50 speakers and over 3000 attendees. SkyTech 2016 will provide information, connections and marketing solutions through an exhibition, 3 conferences, workshops, product launches, live demonstrations and networking events. SkyTech is also a media platform and press day for the UAV industry across the UK, Europe and worldwide.
SkyTech will be attended by experts from across the UAV industry, bringing together manufacturers, suppliers, service providers, government, academia, investors, trade associations and regulatory bodies. SkyTech will also bring together buyers from a range of targeted industries including agriculture, environment, oil & gas, infrastructure, utilities, construction & property, policing, fire service, search & rescue, media, broadcasting and mining.
SkyTech's exhibition is completely free to attend and will feature the latest in cutting edge technology and services from across the global unmanned aviation industry. Alongside its exhibition SkyTech will also feature a number of conferences and break-out workshop sessions providing information tailored to all aspects of the commercial UAV industry.
To secure your free exhibition tickets or purchase your conference tickets visit https://skytech2016.eventbrite.co.uk
For more information visit the event website www.skytechevent.com
More Information and Registration
To learn more about SkyTech 2016, to register to attend or exhibit, please click below.