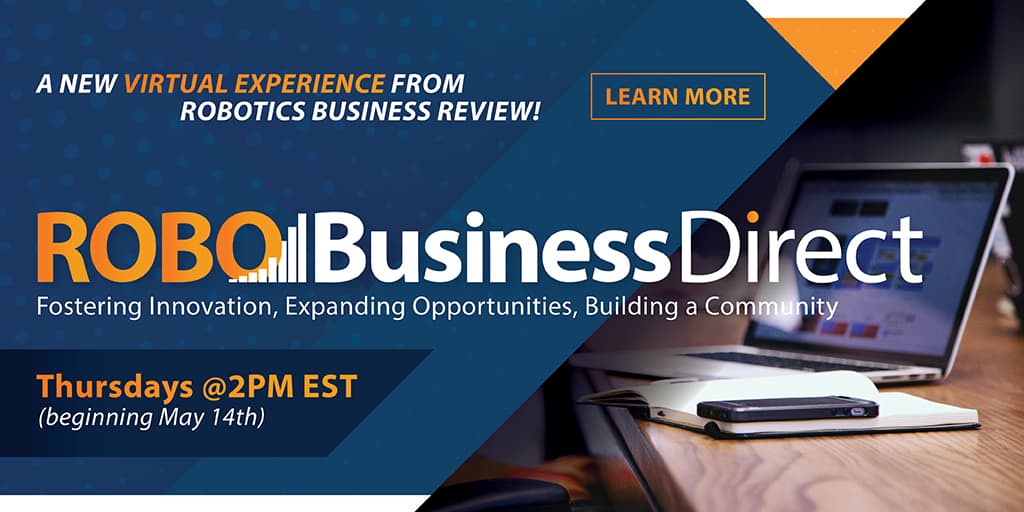 About the Event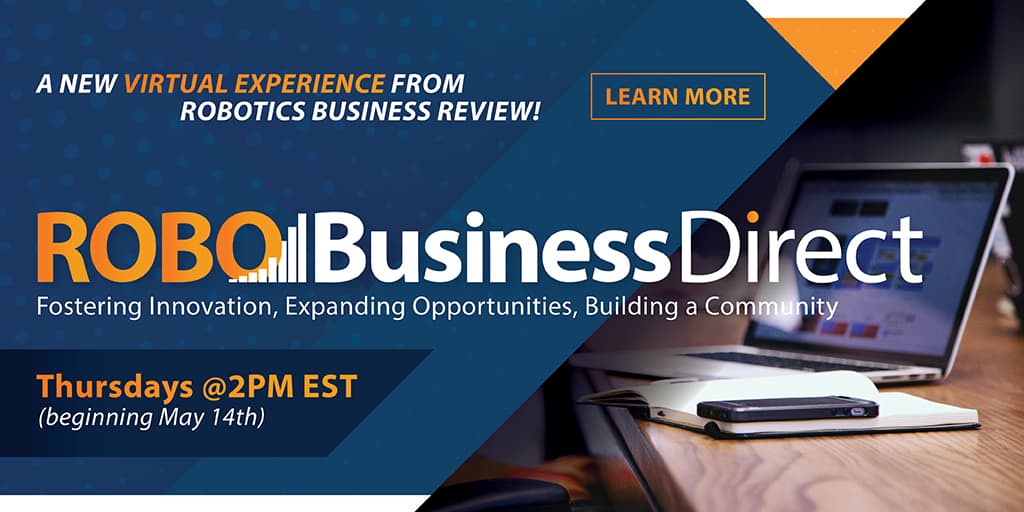 RoboBusiness Direct is built to foster robotics innovation in all its forms, expand robotics business opportunities, and build a community of like-minded problem solvers with the goal of driving the growth of robotics businesses.
More than a webinar or virtual event, RoboBusiness Direct is an ongoing, integrated series of presentations and media coverage delivered by brightest minds from the leading robotics and automation companies from around the world.
Register and view all available sessions here.
Upcoming sessions include:
August 27, 2020
Developing Robots That Can Promote Social-Economic Learning in Children

Paolo Pirjanian, CEO at Embodied

Paolo Pirjanian will discuss how the relationship between humans and machines is evolving, including how robots and robotic technology can be applied for social good. Specifically, he will review the development of Moxie, a companion for children designed to help promote social, emotional, and cognitive development through everyday play-based learning and content. He will describe how machine learning was employed so that Moxie platform could perceive, process and respond to natural conversation, eye contact, and facial expressions, as well as recognize and recall people, places, and things. He will also highlight how this sensory input can be used to help children learn and safely practice essential life skills such as turn taking, eye contact, emotion regulation, relationship management, and problem solving.
September 3, 2020
What's New and Next in Robotics for Manufacturing

Gregorio Balandran, R&T Engineered Factory, Automation Manager, Spirit AeroSystems
Satyandra K. Gupta, Professor in the Department of Aerospace and Mechanical Engineering and Department of Computer Science, Viterbi School of Engineering, University of Southern California
Arnold Kravitz, Chief Technology Officer, ARM Institute
Elena Messina, Group Leader, Manipulation & Mobility, National Institute of Standards and Technology (NIST)The Advanced Robotics for Manufacturing (ARM) Institute, a national consortium of 250+ member organizations focused on advancing the state of robotics in manufacturing, have engaged in over 50 projects that focus on moving innovative technologies forward to be used by manufacturers of all sizes in the United States. In this keynote session, several members of the ARM Institute will review the strategies behind project selection, as well as the projects themselves. Project outcomes in all areas of manufacturing – from design through delivery – will also be discussed, and those technologies, methodologies and initiatives which are gaining traction to drive increased use of robots in the United States and globally will also be discussed.
September 10, 2020
The Business Value of Autonomous Mobile Robots

Ash Sharma, Managing Director of Interact AnalysisAsh Sharma, MD of Interact Analysis an international market research and advisory services company focused on the industrial and supply chain automation sectors, will discuss the market potential for autonomous mobile robots (AMRs) for solution providers, as well as the benefits accrued to end-user companies from their use. Drawing on several recent research projects and reports that Interact Analysis has conducted in industrial and warehouse robotics, Ash will discuss where the market is going, and the reasons behind its current impressive growth rates. He will also provide particular insight into the effect of COVID-19 – including not just the short run potential for using mobile robots to allow social distancing in warehouses, but also the long-term impact that the virus is having on the industrial automation strategies of many mobile robot buyers. AMR solution providers and case studies will be discussed to highlight saline points.
September 18, 2020
Using ROS for Reproducible Robotics Results

Ricardo Tellez, CEO of The ConstructRicardo Tellez will describe one of the key roadblocks preventing robotics innovation to proceed more quickly, namely, the lack of benchmarking when developing different robotics solutions. It is often impossible to reproduce results that others have achieved or compare results. Even if the code is published on a Git, comparison of results is very difficult because the testing conditions for each robotics system is different. In this presentation, attendees will learn how the use of ROS, Gazebo simulator and the cloud can boost robot development by providing a common ground to test and reproduce any robotics solution and compare it with other solutions.
September 24, 2020
The Healthcare Robotics Opportunity LandscapeWhile the role of robotics in healthcare has been fairly well established over the last few decades, recent advancements in technology and social acceptance of collaborative applications has accelerated the development of new medical uses and adoption. Now, robots are supporting a wide variety of healthcare applications ranging from rehabilitation to surgery and on to cancer treatments. In fact, in some segments of the healthcare industry, lacking a robotic system could is a competitive disadvantage. But what does today's opportunity landscape look like for this industry? And how will it change with the current health crisis?

This presentation will examine the modern state of healthcare robotics, including the different technologies and current cultural drivers that are pushing for wider adoption. The speaker will draw on his experiences in the industry to provide the audience with both a detailed history of how robots have supported medical applications over the years, and how he envisions the sector evolving over time. Attendees will be provided with actionable advice they can use to identify opportunities in the healthcare robotics space, and how to prepare for the coming years.
Location Map
Map Unavailable
Visit Website