Event
Nordic UAS Event 2016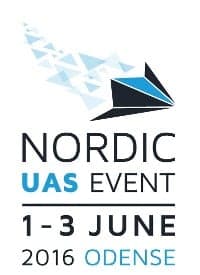 About Nordic UAS Event 2016
Visit the largest Unmanned Aircraft Systems expo, conference and live demonstrations in Northern Europe.
Now in it's 4th year, the annual Nordic UAS Event 2016 (NUE16) is becoming the epicenter for the Nordic UAS business, gathering end-users and industry specialists from the Nordic countries and around the world.
The event welcomes experts from across the UAV industry and brings together manufacturers, suppliers, service providers, government, academia and regulatory bodies.
Target industries include environment, agriculture, infrastructure, construction & property, policing, oil & gas, defence, fire service, search & rescue and artic.
RoboBusiness Europe 2016, 1-3 June
The event will be a co-event with RoboBusiness Europe 2016 in order to benefit from the common technological aspiration; automation. Automation is considered as "the fourth industrial revolution" in the world, and that is the future we want to show. Not as a distant vision – but as a way of life for tomorrow.
Nordic perspective
The conference will be arranged together with UAS Sweden, UAS Norway and SDU UAS Center (University of Southern Denmark). You will meet key speakers from the Nordic countries and the rest of the world.
Fast Facts
• 3000 + visitors
• 80 + UAS exhibitors
• 75 + speakers
Secure your stand at the exhibition by visiting www.nordicuasevent.com
More Information and Registration
To learn more about Nordic UAS Event 2016, to register to attend or exhibit, please click below.