Event
Next-Generation Robotics & Automation 2016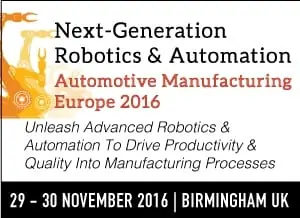 About Next-Generation Robotics & Automation 2016
This year's Next-Generation Robotics & Automation: Automotive Manufacturing Europe 2016 Summit will be the only event focused on robotic upgrade and innovation, specifically for the automotive industry.
Co-located with our UK flagship Joining, Forming & Manufacturing Technologies Summit, on 29th-30th November, at the VOX in Birmingham, this must-attend event addresses how to retain cutting edge in automotive manufacturing and the tactics needed to get next-generation robots right, first time.
Reasons To Attend The Only European Robotics Event Dedicated To The Automotive Industry –
Discuss selection and implementation challenges specific to your sector:
8+ Robotic Capabilities Case Studies – Comprehensive access to exclusive manufacturer perspectives on Next-Generation Robotic applications – direct from the plant
5 Process Specific Breakout Groups – Grapple with application, maintenance & selection considerations particular to your production process: Body Shop, Paint Shop, Power Train & Final Assembly
4 Robot-Type Deep Dive Discussion Groups – Discuss with peers the capabilities and attributes of each specific next-generation robot type to address their relevance to your needs: Zero Speed Monitoring, Power & Force Limited, Speed & Separation & Hand Guided Robots
Strategic & Technical Focus – A blended programme offers access to business case and strategic considerations, as well as tactical robotic application techniques
Speakers Include:
Willem Grobler, Technology Project Leader, BMW
Rich McDonnell, Senior Manufacturing Manager TS-22, Jaguar XE & F-Pace Body Construction, Jaguar Land Rover
Dan Lämkull , Methods Developer, Volvo Car Corporation
Ali Ackay, Control Technologies & Robotics – Manufacturing Engineering Development, Daimler AG & Mercedes-Benz Trucks
Receive 15% off your registration (in addition to early registration discounts) – enter "UST15" at the checkout.
More Information and Registration
To learn more about Next-Generation Robotics & Automation 2016, to register to attend or exhibit, please click below.