Event
Naval Mission Systems Technology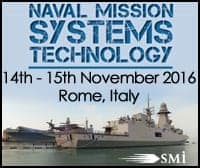 About Naval Mission Systems Technology
Navies are constantly looking at how the collection and dissemination of data from marine helicopters, UAVs, radars and shore based sensors through C2 systems can be improved to produce an accurate, clear, and all-encompassing picture of the maritime theatre for allied forces.
The complexity associated with effectively coordinating the variety of operations of these systems means that interoperability between all systems, divisions, and nations is of paramount importance. Therefore, SMi's Naval Mission Systems Technology Conference will explore the strategies and technologies required to develop next generation capability in this vital area of national defence.
This conference will provide updates from national navies on their mission system capabilities, future requirements and the associated challenges. Focusing on the importance of technological interoperability to ensure a swift transaction from existing to new platforms as well as allowing continual upgrades to respond to evolving mission tasks. These topics will be addressed by expert military speakers, solution makers and industry providers to offer the latest information in developments within Naval Mission Systems Technology.
The expert speaker panel includes: Italian Navy, German Navy, Spanish MoD, NATO Modelling and Simulation Center of Excellence, BAAINBw and many more.
BENEFITS OF ATTENDING:
Meet and network with military and industry decision makers in Naval Mission Systems Technology
Hear the very latest technological developments from research and industry experts, who are enhancing the effectiveness of Naval Mission Systems Technology
Explore ways in which interoperability between nations and technological systems can be developed to maximise the proficiency of naval mission systems strategies and technology.
Gain an accurate update on the Mission Systems being developed within programmes across Europe and the United States.
EARLY BIRD OFFERS AVAILABLE:
Register by 31 August to SAVE £300!
Register by 30 September to SAVE £200!
Register online at www.navalmissionsystems.com/ust or contact Drew Miller on: Tel: +44 (0) 207 827 6128 | email: [email protected]
More Information and Registration
To learn more about Naval Mission Systems Technology, to register to attend or exhibit, please click below.