Event
Military Robotics and Autonomous Systems USA
June 20-21, 2022
United States
Key Details
Dates:

June 20-21, 2022
Venue:

Arlington, VA, United States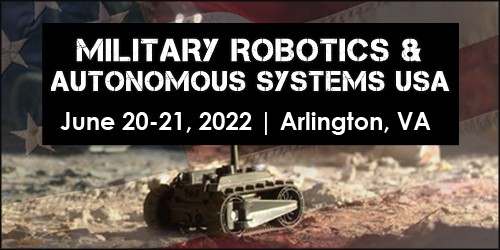 About Military Robotics and Autonomous Systems USA
SAE Media Group is proud to announce the 2nd annual Military Robotics and Autonomous Systems USA conference on the 20th and 21st June 2022. Following on from our successful inaugural virtual event in 2021, we are excited to finally bring the community together under one roof for the first live event of its kind in the country.
With the continuing advances in robotic capabilities and the increasing threat of near-peer adversary technology the US DoD is continuing to invest heavily in land robotics of all sizes to increase Warfighter lethality and remove the soldier from dangerous situations.
MRAS USA 2022 is the only US-based event specifically dedicated to military robotics in the land environment. It will bring together the leading US and international program managers, robotics experts and industry to discuss the rapidly expanding role of military robots within the modern battlespace. As new opportunities and challenges emerge in this rapidly changing area, the conference enables the military robotics community to work collaboratively to forge ahead and deliver the very best unmanned capabilities to soldiers, sailors, airmen and marines.
As well as bringing together the US ground robotics community, the conference will gather in some of the most dynamic and innovative international militaries to provide their unique perspectives; no other event in the USA offers the same number of opportunities to meet, discuss and network with opposite numbers from allied nations.
Register online at www.roboticsautonomous-usa.com
More Information and Registration
To learn more about Military Robotics and Autonomous Systems USA, to register to attend or exhibit, please click below.