Event
Global Intelligent Systems 2013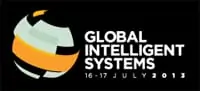 About Global Intelligent Systems 2013
Autonomous and Intelligent Systems technology is sometimes thought to refer only to Unmanned Aerial Vehicles (UAVs). In actual fact, the scope of this technology stretches far beyond these limits and is already being utilised throughout many different sectors such as Healthcare, Agriculture, Emergency Services, Energy and Transport. Throughout the next decade, a huge increase is expected to be seen in the use of Autonomous and Intelligent System technology in all aspects of day to day life.
Global Intelligent Systems (GIS) is brand new conference that will launch in July 2013, the first of its kind dedicated to this exciting international growth market.
GIS 2013 will be organised by Farnborough International Limited and ADS, the trade organisation advancing UK Aerospace, Defence, Space and Security industries, together with partners KTN and the UK MoD, with the aim of bringing Autonomous and Intelligent Systems capabilities in front of a high level, international audience and in particular promoting UK developments in this field, Research and Development and broadening market opportunities. Unlike any other event in this domain, GIS 2013 will focus on Autonomous and Intelligent Systems technologies that transcend sectors, offer new services to the global citizen, open the doors to potential new markets and support a coherent and high-tech UK offering to the world.
More Information and Registration
To learn more about Global Intelligent Systems 2013, to register to attend or exhibit, please click below.