Event Details
08/06/2021 - 09/06/2021
HILTON ARLINGTON, 950 North Stafford Street, Arlington, VA, , United States
Visit Website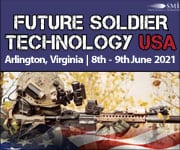 About the Event
Announcement: Due to ongoing concerns over COVID-19, this conference is now taking place on 8-9 June 2021, with a Dismounted Soldier Situational Awareness focus day on the 7th of June 2021, in Arlington, Virginia.
SMi Group are proud to announce the return of the 2nd annual Future Soldier Technology USA Conference and Exhibition taking place in Arlington, Virginia on the 8th-9th June, with a brand-new Dismounted Soldier Situational Awareness Focus Day on 7th June 2021.
As the only event dedicated exclusively to dismounted soldier and marine modernization in North America, Future Soldier Technology USA will bring together military leaders and technical experts to address the evolving capability spectrum of dismounted technology of the US Armed Forces.
New for 2021:
1. Situational Awareness Focus Day on the 7th June
The pre-conference focus day will discuss the developments being made that will allow the dismounted soldier to gather, understand and utilize the growing amount of data available to create a more complete operating picture.
2. A special focus on Soldier Lethality and Weapons Systems
The agenda is heavily focused on the technological developments that will serve to enhance soldier lethality. Programs like the Next Generation Squad Weapon and Adaptive Squad Architecture (ASA) are key components to this being discussed.
—
Key reasons to attend:
Participate in the only event in North America focused solely on dismounted Soldier and Marine equipment modernization
Hear the latest developments from innovative and cutting-edge soldier modernization projects including Soldier Warrior, Nett Warrior, IVAS, Marine Expeditionary Rifle Squad and many others
Meet and network with the senior program managers and solution providers at the very cutting edge of future soldier technology.
View the agenda or register online at: http://www.futuresoldierusa.com
Visit Website