Event
Future Forces Exhibition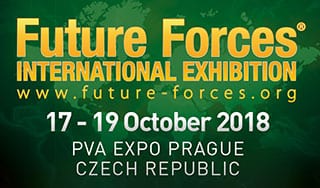 About Future Forces Exhibition
The FUTURE FORCES Exhibition is a highly recognised international defence & security event, and is officially supported by the Czech Ministry of Defence, Chief of the General Staff, Ministry of the Interior, Ministry of Foreign Affairs, civil and military parts of the NATO HQ, European Defence Agency (EDA) and many other relevant national as well as international institutions, organisations and agencies.
Exhibitors and visitors will be able to learn and exchange information, and forge relationships. From congresses, conferences, workshops, seminars, panel discussions and live demonstrations on the needs in defence and security, to one-to-one talks with civil and military experts at international levels on the demands of tomorrow, the Exhibition is geared around people being able to meet with each other and develop business.
Highlights:
200+ International Exhibitors
Participants from over 60 countries
NATO, PfP, MD, ICI, MENA, BRICS and other cooperating countries from across the globe
International exhibition, congress, conferences, workshops and bilateral meetings
Presentations of R&D Projects, lessons learned from operations, emerging technologies and business opportunities.
More Information and Registration
To learn more about Future Forces Exhibition, to register to attend or exhibit, please click below.