Event
Droning On 2023
April 27-29, 2023
United States
Key Details
Dates:

April 27-29, 2023
Venue:

Warren Community College, New Jersey , United States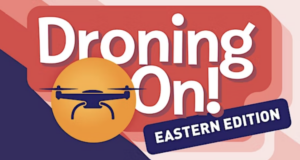 About Droning On 2023
Droning On Eastern Edition 2023 will take place at Warren County Community College, the event is free, open to the public, and sponsored by the Federal Aviation Administration. This three day event will include panels, lectures, demonstrations and more.
What to expect at Droning On 2023
Thursday, April 27: Education Day
Learn about post-secondary schools with UAS programs
Information on careers in drones
Tools for educators
Hands on activities
Friday, April 28 : Public Service Day
Public Safety training
Panels on Rules and Regulations
Government best practices and resources
Saturday, April 29 : Fun Day
Fly a drone!
Drone Simulators
Racing
An Area 57 event!
Drone demonstrations will happen each day!
Droning On 2023 Dates
27th – 29th April 2023
Reserve your free ticket today to talk with professionals and experts, learn how drones are impacting education, public safety, new career opportunities and participate in hands-on activities.
More Information and Registration
To learn more about Droning On 2023, to register to attend or exhibit, please click below.