Event
Disruptive Technology for Defence Transformation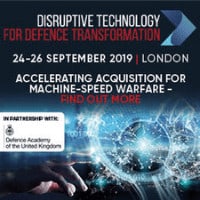 About Disruptive Technology for Defence Transformation
The world leading Disruptive Technology for Defence Transformation Conference, taking place 24th – 26th September 2019 in London, UK will examine how the application of Digital Age technology transforms the delivery of 'full spectrum effects': aligning new military hard power with the whole range of soft power including cyber and social media; moving on to establish how acquisition structures and processes can (and must) be adapted to ensure that we are able to keep pace with industry's progression.
Last year's conference welcomed the UK Vice Chief of Defence Staff, Commander Joint Forces Command and many very senior national military and NATO leaders – this year will bring together 200-250 senior military leaders, government officials, tech and defence industry, research, War and Staff colleges and academia.
Attend the conference to:
Establish a more lethal, resilient, and innovative Joint Force by learning how to maintain the technological advantage in an increasingly information-dominated battlespace
Position your brand as a partner for innovation by enhancing your understanding of the MoD's transformation imperative and near, mid, and long-term modernisation requirements
Enhance your ability to organise, analyse, secure, scale, and capitalise on critical information to make timely, data-driven decisions by meeting leading solution-providers of C4ISR and data management solutions
Integrate a manned, unmanned, autonomous mix of capability to retain combat advantage by hearing briefings from strategic decision-makers and leading industry
Use data as a strategic resource and develop resilient networks by meeting leaders in data analytics and cyber technology
Expert Speaker Panel includes:
General Sir Gordon Messenger, Vice Chief of the Defence Staff, UK MoD
General Sir Chris Deverell, Commander, UK Joint Forces Command
General Mirko Šundov, Chief of Defence, Croatian Ministry of Defence
Lieutenant General Ivan Hooper, Chief Executive Officer Information Systems and Services, UK Ministry of Defence
Thomas H. Killion, Chief Scientist, NATO
Richard J. Joseph, Chief Scientist, US Air Force
Air Vice-Marshal Bruce H. Hedley, Director Joint Warfare, UK Joint Forces Command
Major General Rob Magowan, Assistant Chief of Naval Staff (Capability), Royal Navy
Major General Odd-Harald Hagen, Head of the Department of Defence Policy and Long Term Planning, Norwegian Ministry of Defence
Major General John S. Kem, Commandant, US Army War College
Brigadier Greg Wilson Head Capability and Strategic Development, British Army
Brigadier General José Antonio Herrera Llamas, Director CCDC – Joint Concept Development Center, Spanish Ministry of Defence.
Download the full agenda here >
Register your attendance. Quote 'UnmannedSystems' to receive 10% discount.
More Information and Registration
To learn more about Disruptive Technology for Defence Transformation, to register to attend or exhibit, please click below.