Event
Commercial UAV Show Asia 2016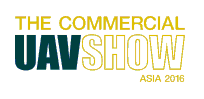 About Commercial UAV Show Asia 2016
Attend the Commercial UAV Show Asia 2016. This 2-day event will combine a comprehensive conference and extensive exhibition under one roof, along with excellent networking opportunities.
The conference will combine the commercial expertise of the world's most innovative and forward-thinking companies with the ingenuity and technical expertise of the world's best academics. Bringing together a variety of commercial communities, our agenda is carefully constructed to address the needs of all UAV stakeholders and will feature speakers from across the eco-system, as well as inspirational keynote speakers.
The exhibition will showcase the vast capabilities and applications of UAVs, from surveillance and monitoring to surveying and delivery. The event will bring together over 1,000 end users, regulators and investors from across the region.
To find out more and to register your attendance, click here.
More Information and Registration
To learn more about Commercial UAV Show Asia 2016, to register to attend or exhibit, please click below.