Event
Avionics Europe 2013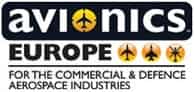 About Avionics Europe 2013
Avionics Europe remains the premier avionics industry event, bringing together the world of commercial and defence aerospace electronics.
Providing a leading international platform for the global avionics industries to learn, network, source new information, products and services at one unique annual event, Avionics Europe is the industry's annual gathering where the latest topics and issues are discussed and the latest technologies and products, available on the market, are demonstrated and showcased.
The event also offers a leading conference programme with an enhanced level of content, a multi-track programme and variety of forums and exhibitor presentations. The programme, including strategic and technical details, delivers high level content for both the commercial and defence sectors of the industry.
Trade & Industry visitors/attendees are invited to visit this 2 day event and entrance to the exhibition hall is free.
Entry to the exhibition hall includes free entrance to Exhibitor Presentations, in the exhibitor presentation arena, and also free entry to any of the public forums, by some of the industry's leading bodies, in the Forum area in the exhibition hall.
More Information and Registration
To learn more about Avionics Europe 2013, to register to attend or exhibit, please click below.