Event
Autonomous Capabilities for DoD Summit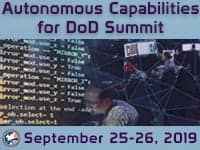 About Autonomous Capabilities for DoD Summit
DSI's 3rd Annual Autonomous Capabilities for DoD Summit will provide a 'town-hall' type forum to discuss the modernized capabilities that autonomy, AI, and machine learning provide to the Warfighter, and how these innovative technologies are enhancing current and emerging DoD systems. The Summit will focus on the current priorities being enacted to accelerate the utilization of autonomy for the future battlefield, both to advance the DoD's strategy of competing in the Great Power competition, and to outpace adversaries who will also exploit autonomous capabilities to their advantage.

The following topics will be covered:
Facilitating the application of AI & Autonomous systems across the DoD to better counter the adversary & disrupt future conflicts
Leveraging Advancements in Autonomy to Modernize the US Army
Advancing the Cross-Domain Integration of Autonomous & UxS Capabilities in Support of the Future Naval Fleet
Developing & Driving Autonomous Capabilities & Technologies in Support of the Future USMC Force
Integrating AI for improved Autonomous Intelligent Maneuver
Exploiting innovative autonomous systems to maximize USAF capabilities & increase force readiness
Analyzing how advances in AI, Machine Learning, Autonomy and other technologies could affect the future of national security
Developing Innovative AI and Autonomous Capabilities to Guide the Evolution of Army Technological Capabilities
Leveraging emerging & disruptive technologies to enhance Robotics and Autonomous Systems (RAS)
At the Summit You Will Have the Ability to:
Gain Education & Insight: Walk away with knowledge gained from our senior level speakers on some of the most complex issues facing the DoD and Government as it relates to autonomy, AI, and machine learning.
Build Partnerships: : The agenda is designed to allow for ample networking opportunities and the ability to discover some of the latest technologies, policy considerations, and solutions of interest to the DoD and Government for autonomy, AI and machine learning.
Influence: Help foster ideas! Share your own insight and knowledge during our interactive sessions. Our town hall format is your opportunity to address our speakers with questions or comments on the current mission
Register your attendance today >
More Information and Registration
To learn more about Autonomous Capabilities for DoD Summit, to register to attend or exhibit, please click below.