Event Details
19-20 September 2018
Mary M. Gates Learning Center, 701 N Fairfax St, Alexandria, VA, 22314, United States
Visit Website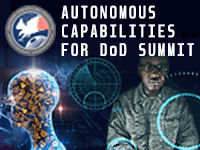 About the Event
The 2018 Autonomous Capabilities for DoD Summit will provide a forum to discuss the advancements and applications of autonomy, artificial intelligence (AI), and machine learning to enhance current and emerging DoD capabilities and systems.
The Summit will focus on the key efforts aimed at accelerating the exploitation of autonomy, both to realize the potential military value, and to remain ahead of adversaries who will also exploit its operational benefits. Examine the DoD's major initiatives in the enabling of autonomous systems, strategic assessments of the challenges, gaps, and opportunities for current and future application, to include the identification of potential investments that advance and initiate critical capability development.
The following topics will be covered:
Accelerating the DoD's Adoption of Autonomous Capabilities
Addressing Design, Requirements, and Acquisition Challenges Specific to Autonomy
Supporting Research and Advancements to Machine Learning / AI
Applying Levels of Machine Learning and Narrow AI to DoD Systems at Rest and In Motion Across Physical and Non-Physical Domain Systems and Platforms
Developing Test, Evaluation, Validation, and Verification (TEVV) Techniques that Focus on Challenges Unique to Autonomy
Human-Machine Teaming Challenges of Transitioning to Increasingly Autonomous Systems
Improving Trustworthiness and Trust in Autonomous Systems
Integrating Counter-Autonomy to Remain Ahead of Adversaries Leveraging Autonomy.
Register your attendance today >

Location Map
Visit Website