Event
Autonomous Capabilities for DoD Summit
United States
Key Details
Date:

Event date has passed. View upcoming events
Venue:

National Harbor Marina, 137 National Plaza, Oxon Hill, MD 20745, United States, United States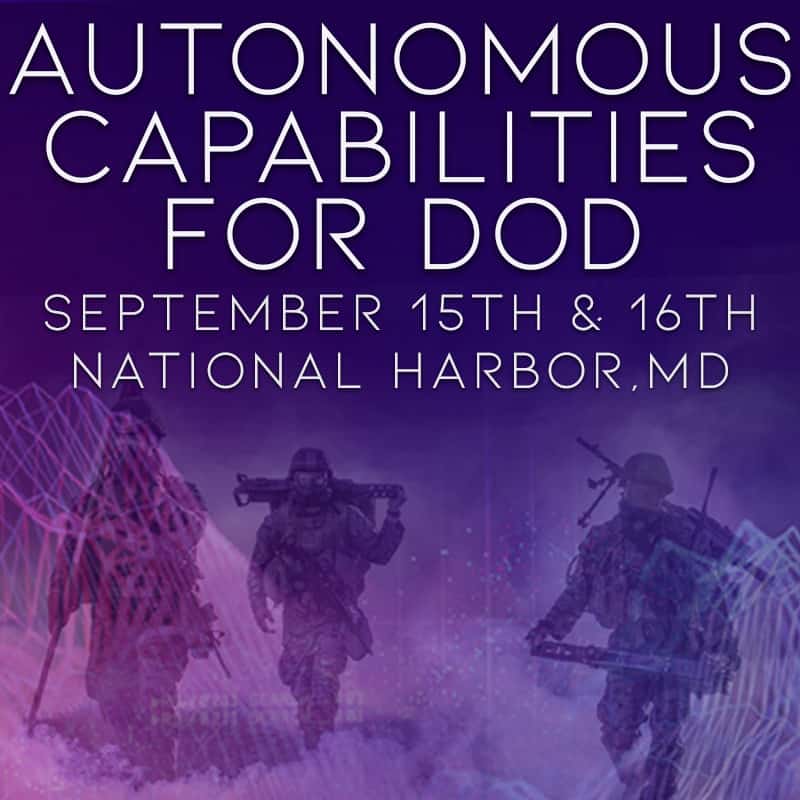 About Autonomous Capabilities for DoD Summit
DSI's 5th Annual Autonomous Capabilities for DoD Summit will provide a 'town-hall' style forum to discuss the advanced capabilities that AI-enabled autonomous systems and machine learning provide to the Warfighter in the battlespace, and how these transformative technologies are revolutionizing current and future DoD efforts to achieve mission success at scale.
This event will focus on current initiatives across the DoD to integrate AI to transform U.S. joint warfighting processes, as well as to enhance both the situational awareness and decision making for our nation's Warfighters.
Several speakers include:
LtGen Michael Groen, USMC, Director, Joint Artificial Intelligence Center (JAIC), DoD CIO
Barbara K. McQuiston, SES, Performing the Duties of the Under Secretary of Defense for Research and Engineering
Jeffrey D. Singleton, SES, Director, Technology, ASA (AL&T)
Col Scott D. McKeever, USAF, Director, Chief of Staff of the Air Force (CSAF) Strategic Studies Group, HQAF
Thomas Kenney, SES, Chief Data Officer/ Director of SOF AI, USSOCOM
Stuart A. Hatfield, Robotics & AI Branch Chief, G-8, HQDA
Dr. Robert Sadowski, ST, Army Chief Roboticist, CCDC Ground Vehicle Systems Center, USD R&E Autonomy CoI Lead
Topics to be Covered at the 2021 Summit:
Driving the transformation of U.S. joint warfighting & departmental processes through the integration of artificial intelligence
Utilizing the DoD's digital transformation to generate the Military Internet of Autonomous Systems for Multi-domain Access (MIASMA)
Leading USD R&E efforts toward accelerating AI & autonomous system modernization
Rapidly integrating & synchronizing AI across the Army & the DoD
USAF Strategic Vision: Leveraging advances in AI to enhance decision-making for the Airmen
Implementing autonomous capabilities to increase the overall power of Naval platforms
Developing & driving autonomous capabilities & technologies in support of the future MAGTF
Optimizing advanced AI & autonomous technologies to increase a Warfighter's situational awareness
Integrating enhanced autonomous technologies to transform Army's Robotics and Autonomous Systems (RAS)
More Information and Registration
To learn more about Autonomous Capabilities for DoD Summit, to register to attend or exhibit, please click below.