Event
Africa Aerospace & Defence 2014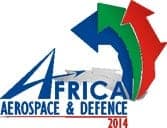 About Africa Aerospace & Defence 2014
Africa Aerospace and Defence (AAD) is one of the world´s premier aerospace and defence events and holds a prominent position within the aviation and defence calendar. The exhibition takes place on a biennial basis in September. The first three days of the exhibition are trade days, followed by two airshow days that is open to the public.
AAD is a very successful partnership between South Africa´s Aerospace, Maritime and Defence Industry Association (AMD), ARMSCOR and the Commercial Aviation Association of Southern Africa (CAASA), with full support from the Department of Defence and has the active support of the Department of Trade & Industry, the Department of Transport and Department of Science & Technology.
Since Africa Aerospace & Defence´s inception in 2000, the event has grown in leaps and bounds and serves the interests of both civilian and military sectors. It has established itself as a major platform for South Africa´s defence, general aviation, space, homelands security, humanitarian relief, disaster management, freight and forwarding services as well as search and rescuetechnology industries and stakeholders. It is the largest exhibition of air, land & sea capabilities on the African continent and showcases the most advanced technologies currently available.
More Information and Registration
To learn more about Africa Aerospace & Defence 2014, to register to attend or exhibit, please click below.