Event
Aerospace TechWeek Europe 2023
March 29-30, 2023
Germany
Key Details
Dates:

March 29-30, 2023
Venue:

Munich, Germany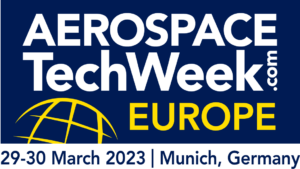 About Aerospace TechWeek Europe 2023

Aerospace Tech Week Europe 2023 has announced its preliminary conference agenda for this key annual event which returns to Munich, Germany on 29th-30th March 2023.
Aerospace Tech Week Europe is an annual event that has been expanding the technology sectors that it covers since its AVIONICS origins in 2001. It now also synergistically covers CONNECTIVITY, MRO IT, FLIGHT OPS IT and TESTING.
The leading conference agenda brings over 100 leading international experts speakers and the industry together to look at the latest challenges, thought leadership, blue sky thinking and solutions, with top companies including Airbus, Boeing, EASA, EUROCONTROL, EUROCAE, European Space Agency, Honeywell, Thales, Collins Aerospace, Wind River and many more.
Highlights of the conference agenda included in the multi-track programme include:
Avionics Track:
Mandates and Regulatory Frameworks Updates
Aviation Infrastructure
EVTOLs, UAMs, and Drones
Technology Trends in Avionics
Use and Trends in Data and Cybersecurity
How Innovation can Assist in Aviation Sustainability
Connectivity Track:
Panel Discussion: Increasing the Value of Connectivity (Airspace Modernisation)
Innovative Data Management and Its Challenges
Data Exchange Technology and Network Security
Panel Discussion: Integrated ATC – The Managed Airspace
How Connectivity Can Help Deliver Sustainability
Future of Connectivity – AI and What it can do for Airlines
Flight Ops IT Track:
Optimising Collaboration between Airlines and ANSPs
Predictive Flight Operations from Real-Time Data
Where Next for EFBs and the 'Smart Cabin'?
Flight Operations, Management Performance, and Data Analytics
End-to-End Flight Operations, Digitization, and Data Security
Joint Panel Discussion with MRO IT: Full ERP Single Solution v Integrated Best of Breeds
MRO IT Track:
Digitisation – Can MRO IT Go Truly Paperless?
AI, Machine Learning, Data and Blockchain Considerations in Digitisation
Panel Discussion: The Value Case for Change in MRO iT: Is Cloud the only Fit?
Technology & Innovation in MRO iT
Capacity Building and Workforce Planning
Joint Panel Discussion with Flight Ops iT: Full ERP Single Solution vs Integrated Best of Breeds
Testing Track:
Test Before You Build?
High Level Integration and Testing, Complex and Embedded Systems
Software and Hardware in the Loop Testing
Cybersecurity in the Testing Environment
Artificial Intelligence and Machine Learning Within The Testing Environment
Challenges in the Changing Testing Environment
The diversity of event themes also attracts greater attendance from the different divisions within the airlines, OEMs, airframers, integrators and suppliers – therefore enhancing greater collaboration.
Aerospace TechWeek Europe 2023 Dates
29th – 30th March 2023
More Information and Registration
To learn more about Aerospace TechWeek Europe 2023, to register to attend or exhibit, please click below.