Event
Active Safety Europe 2016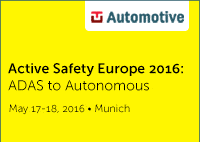 About Active Safety Europe 2016
The unique Active Safety Europe 2016: ADAS to Autonomous Conference and Exhibition (May 17th & 18th, Munich) will examine the here and now of ADAS tech on the road towards greater vehicle autonomy.
25+ speakers such as Volkswagen, Peugeot Citroen PSA, DENSO, Intempora, UNECE, UK Department of Transport, Zurich and Allianz and more explore the real challenges around creating new ADAS features
12+ in-depth technical sessions examine software and sensor technologies, mapping systems, legislative and liability challenges, plus much more to provide you with unparalleled insight on the near future of ADAS and vehicle autonomy
Network face to face with 150+ of the technical experts from Europe's leading automakers and technology suppliers to get to be at the forefront of this automotive revolution.
Enter the following discount code during online registration to save €100 on all conference passes: 4517UST
Visit the website for more information and to register today.

More Information and Registration
To learn more about Active Safety Europe 2016, to register to attend or exhibit, please click below.