microLink – BVLOS UAV C2 Data Link
microLink is a Beyond Visual Line of Sight (BVLOS) Command and Control (C2) drone data link radio specifically designed for long-range mission-critical applications and UAV operations.
The FCC (U.S.A.) and IC (Canada)-approved high-integrity avionics solution consists of two radios, each with their own external antenna for enhanced reliability, range, and signal blockage protection.
The GPS timing-synchronized datalink utilizes advanced frequency-hopping techniques to protect against external interference, using the full 902 – 928MHz spectrum range. Performance can be optimized even further by pairing microLink with our skyStation Ground Radio System (GRS), which multiplies your effective range to 12 miles line-of-sight and can be mounted on your GCS or on permanent infrastructure.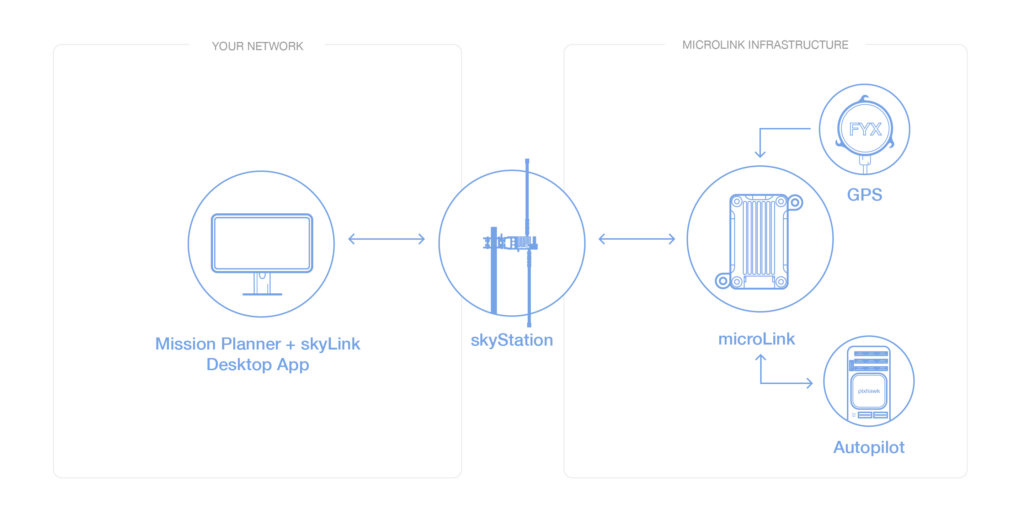 The versatile solution features an open architecture with almost limitless integration options and allows you to interface with PixHawk or nearly any serial-connected drone autopilot.
microLink is supplied with a mission monitor application that provides continuous connection status, signal integrity, and health of both ARS and GRS radios, allowing pilots to make critical decisions before link loss occurs.
Specifications:
| | |
| --- | --- |
| Radio Band | 902-928MHz ISM |
| Radio Transmit Power | 1W (4W EIRP) |
| Radio Bandwidth | 200 kHz |
| Size | 31 x 26 x 9 mm (ARS) 122 x 82 x 55 mm (GRS) |
| Weight | 16g (ARS) 500g (GRS) |
| Input Power | 1.7W Peak (ARS) 13W Peak (GRS) |