DLS-100 UAV Datalink
The DLS-100 combines an Iridium Certus mid-band transceiver with a commercial GPS receiver, providing reliable real-time command and control, telemetry streaming, and imagery and data transfer for UAVs.
The low-latency rugged modem provides uplink speeds of 22 kbps and downlink speeds of 88 kbps almost anywhere in the world with 99.9% reliability.
The system can be remotely controlled and configured via a web browser, and easy-to-use APIs also allow developers to create their own software to interface with the device. The ruggedized IP67-rated device is housed in EMI-shielded hard-anodized aluminium, and provides convenient connectivity via Wi-Fi, 100BASE-T Ethernet ot RS-232.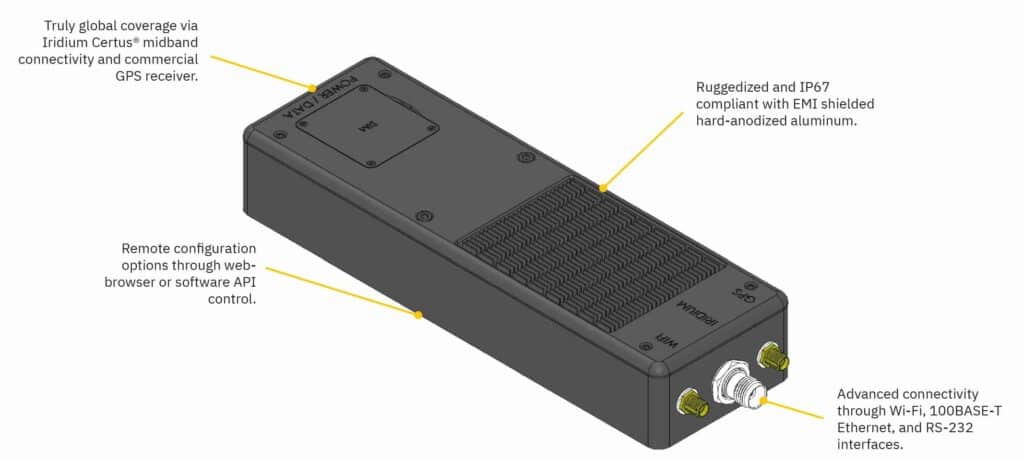 Other key features and capabilities of the DLS-100 UAV modem and GPS system include:
Beyond Visual Line of Sight (BVLOS) communications
Real-time UAV command and control (C2)
UAS and payload health monitoring
Real-time flight data monitoring (FDM)
Flight Data Acquisition
Global network-based Remote ID
Compatibility with commercial and DoD SIM cards