M40 Autonomous Hydrographic Survey Vessel
The M40 is a medium size autonomous survey vessel, designed for bathymetry surveys in coastal areas and oceans. With a modular catamaran design and flexible payload for instruments, the M40A was developed to provide high performance surveys with single or multi beam sonars, as well as different kinds of hydrographic and monitoring instruments.
The M40 has an aluminum and carbon fiber hull and is powered by a high capacity lithium polymer battery.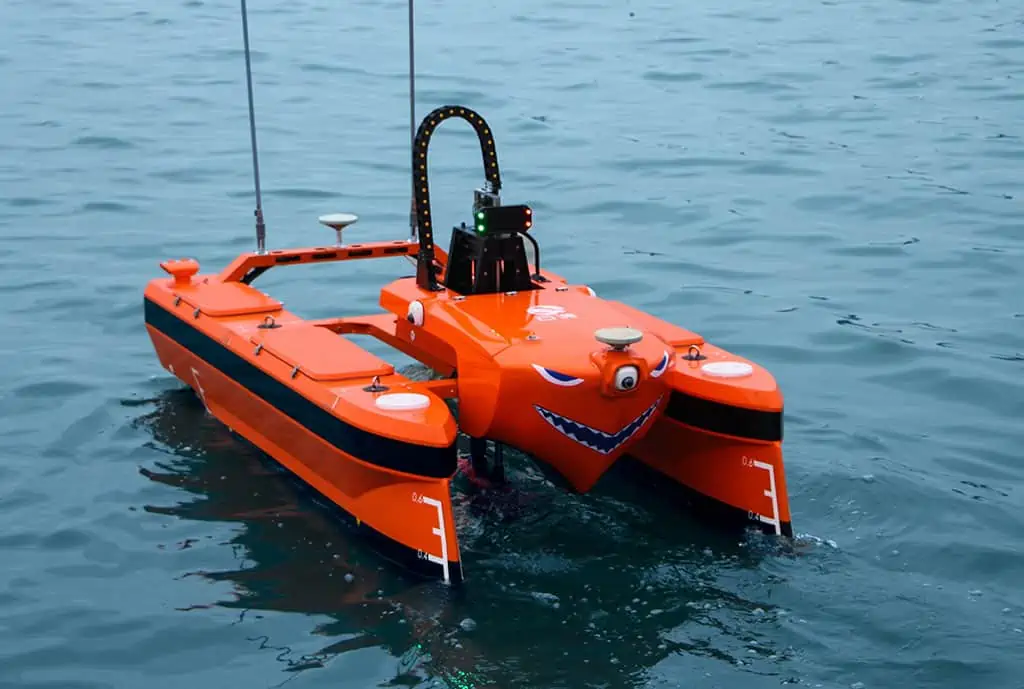 ① Modular Wet/Dry Payload Bay
The M40 USV has a typical payload capacity of 60 kg. Its dry payload bay can be replaced in the field to install different sensors:
Singlebeam echo sounder
Multibeam echo sounder
ADCP
3D LiDAR scanner
Side scan sonar
Forward-looking sonar
Water quality sonde
Sub-bottom profiler
② Automatic Lifter For Wet Payload
A build-in automatic lifter can lift and drop the instrument depending on whether the USV is sailing or surveying, which can protect transducers and save energy correspondingly.
③ Flexible Transportation & Maintenance
Both the component system and the mission system utilize a modular design, making it easy to switch between different mission deployments and maintain the USV.
④ Lower Noise and Higher data quality
The innovative wave-piercing bottom of the M40 USV can slice through waves to reduce shaking and noise during sailing which allows instruments to collect data of higher quality.
⑤ Stable Navigation and Great Line Tracking Ability
The steady catamaran hull design and low vibration electric propulsion provides great stability for survey navigation.
⑥ High power electric propeller
The M40 USV is driven by lithium polymer batteries and is able to reach the speed of 7 knots in full payload.
⑦ Automatic Multi-purpose Survey
Both the USV and the survey instruments are operated by the base station. Navigated by the GNSS positioning system, the USV can autonomously conduct pre-programmed multi-purpose surveying missions and send back data in real-time.
Operators can also control the USV manually within a distant of 2 km by using a remote controller.
⑧ Collision Avoidance System
Collision avoidance system can detect obstacles in 50 meters ahead to avoid collision
User can observe the water environment around the USV via 2 onboard cameras.
Specifications:
| | |
| --- | --- |
| Dimensions | 3.5m x 1.85m x 1.8m |
| Range | 10km |
| Endurance | 6h @ Survey Speed 4-5kn |
| Payload | 60kg |
| Weight | 530kg |
| Max Speed | 7 knots |