ESM30 Autonomous Water Sampling & Monitoring USV
The ESM30 is an autonomous water sampling & monitoring unmanned surface vessel designed to provide a fast response to sudden water pollution accidents in difficult or challenging environments, and to conduct water sampling tasks in lakes, rivers or reservoirs.
The ESM30 autonomous surface vehicle uses GPS location tracking to follow preset waypoints and mission parameters, navigating autonomously while intelligently avoiding obstacles up to 10m ahead. It can integrate third-party probes, such as YSI, hydrolab and eureka, for online data acquisition and the creation of water quality contour maps.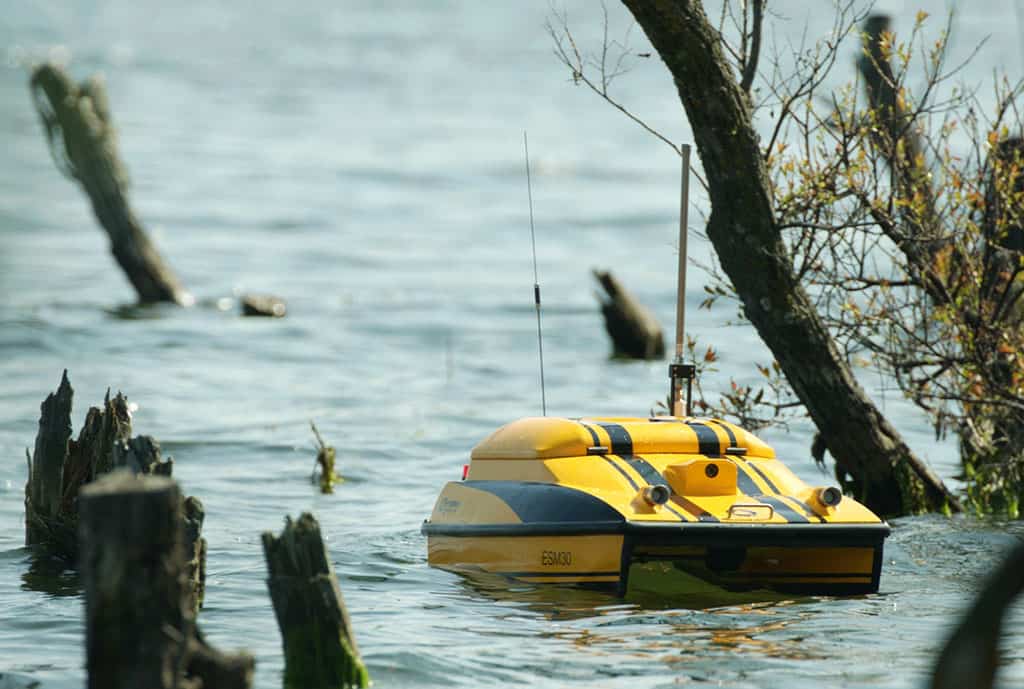 ① Multi-spot water sampling and monitoring
Equipped with a water quality sonde to monitor temperature, conductivity, turbidity, dissolved oxygen, pH, chlorophyll-a and blue green algae.
Can collect 4 bottles of 1.8L water samples from different spots 0.5 m under the water's surface.
4 separated tunnels to avoid cross pollution.
② Online water sampling & quality monitoring reports
Sampling and monitoring data can be transmitted to the base station in real-time and automatically generate graphical reports.
Assist users to keep track of water quality intuitively and facilitate immediate action to cope with abrupt water pollution.
③ Automatic mission planning
Both the USV and the surveying instruments are controlled by a base station. The USV can autonomously conduct surveys and send back data in real-time.
User can also drive the USV manually by a remote controller.
④ Intelligent collision avoidance
With the ultrasonic sensors, the ESM30 USV can detect and bypass obstacles 10 meters ahead to avoid collision.
In manual mode, user can observe water environment by the real-time video feed to better avoid obstacles.
Specifications:
| | |
| --- | --- |
| Dimensions | 1150 x 800 x 430mm |
| Weight | 31kg |
| Power supply | 14.8V, 20Ah high-power Li-polymer battery |
| Endurance | 3 hours |
| Sampling Depth | 0.3-0.5m |
| Max Sampling Volume | 8 litres |
| RF point-to-point range | 5km |
| Payload | 15kg |
| Max Speed | 1.5m/s |