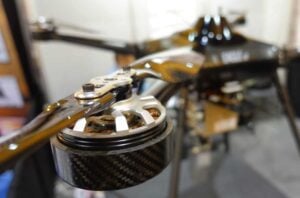 KDE Direct is a leading designer and manufacturer of high quality components for single- and multi-rotor unmanned aerial systems (UAS). We are a market leader in both custom and off-the-shelf brushless motors, electronic speed controllers (ESCs), and military-grade propeller blades for commercial and industrial drones.
Our components are used in a wide variety of professional UAS applications, from LiDAR scans and surveying to mapping of oil rigs and agricultural crops and enabling heavy lifting unmanned aircraft in aerial cinematography.
Our products are created with detailed design intent, finite-element analysis, and the strictest machining guidelines. We have been awarded the ISO 9001 certification for our production facilities, and our products are RoHS (The Restriction of Hazardous Substances), CE (European Conformity), and WEEE (The Waste Electrical and Electronic Equipment Directive) compliant for commercial and industrial applications.