REMUS 300M UUV
The REMUS 300M is a small-class, two-man portable unmanned underwater vehicle depth-rated to 300 metres and specially designed for challenging mine countermeasures and search & rescue operations.
The UUV is equipped with high-resolution side scan sonar, and can survey large areas in a single mission, allowing operators to locate and identify mine-like targets, sunken ships and downed aircraft. The scalable and modular system can also be optionally equipped with specialist payloads for applications such as anti-submarine warfare and ISR.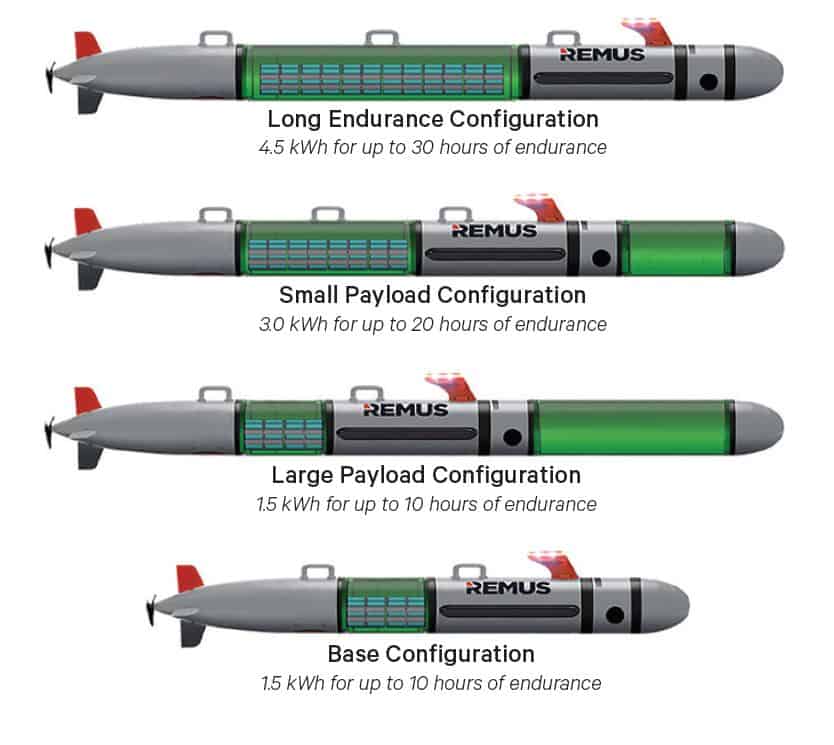 The REMUS 300M is available with three rechargeable battery options to suit a range of endurance requirements.
Specifications:
| | | | |
| --- | --- | --- | --- |
| | 1.5 kWh | 3.0 kWh | 4.5 kWh |
| Dimensions (L x D) | 203 x 19 cm (80 x 7.5 in) | 239 x 19 cm (94 x 7.5 in) | 264 x 20.7 cm (104 x 8.1 in) |
| Weight | 48.5kg (107 lb.) | 58.5kg (129 lb. | 70.3kg (155 lb.) |
| Depth Rating | 305 m (1000 ft) | 305 m (1000 ft) | 305 m (1000 ft) |
| Speed | 0-5 knots (0.2.6 m/s) | 0-5 knots (0.2.6 m/s) | 0-5 knots (0.2.6 m/s) |
| Estimated Endurance | 10 hours | 20 hours | 30 hours |
| Max Range | 55 km (29 nm) | 110 km (59 nm) | 165 km (89 nm) |