Cortex HF50 Hybrid Engine
Hybrid Heavy Fuel (or Petrol) Engine for Drones
The Cortex HF50 Series Hybrid is a newly developed two-stroke hybrid heavy fuel (or Petrol) UAV engine system from Currawong Engineering.
Based on the industry proven Currawong Corvid-50, the Cortex HF50 is a heavy fuel engine with hybrid power capability. The Cortex HF50 Series Hybrid is suitable as a replacement for batteries, gasoline engine or existing hybrid power systems for UAV platforms with electrically driven motors such as multi-rotors.
The hybrid architecture of the system allows for bidirectional power flow between the electrical system and the engine. During normal operation the engine can provide power to onboard electrical systems and charge batteries while providing prop power for flight. This allows for lower battery weight and better aircraft range. Power can also be directed from the battery system to the engine for self-starting, power boost during flight and in-air engine restart.
UMAN-VP4F Heavy Fuel (Petrol variant also available)
Through research Currawong discovered previous investigations into the use of Isopar as an alternative fuel for gasoline powered engines. Isopar maintains the benefit of a high octane level while providing a high flash point, an important safety consideration and one of the primary benefits of heavy fuel. It also has lower risks for handling and is essentially odourless making it much more pleasant for operators.
| | |
| --- | --- |
| Part Number | CE2169 |
| Engine Type | 2-stroke Series Hybrid |
| Displacement | 50cc |
| Weight | 4.7kg (10.36lb) (Engine, Generator, Low Noise Exhaust, cooling system, Isolation Mount, EFI inc. Triplex pump, Transmuter and harness) |
| Fuel Type | UMAN-VP4F Heavy Fuel (or Petrol) |
| Fuel Consumption | 600 g/kW-hr (electrical) at 5000 RPM & 50% throttle* |
| Power | 2.4kW (electrical) at 7500RPM |
| Generator | 130 KV |
| Ignition | CDI |
| Cooling | Air-Cooled |
| Ambient Operating Range | -20°C – 45°C+ |
| TBO | 300+ hrs |
| Recommended MTOW | 40kg |
| Transmuter Voltage | 60V/14S |
| Transmuter Current (Sustained/Peak) | 150A/300A |
| Transmuter Power | 7.5kW |
| Transmuter Operating Temperature | -20°C – 100°C (Internal) |
| | *This fuel may change performance numbers of the above and is dependent on the application |
Triplex Pump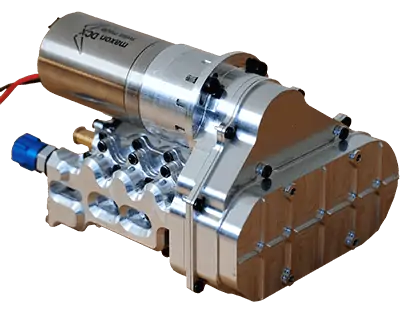 In order to suitably atomise UMAN-VP4F heavy fuel the Cortex-50 engine makes use of the Currawong designed Triplex pump.
The Triplex fuel pump's unique three piston design provides high pressure, smooth fuel delivery and a tightly integrated control system allows for precise regulation of fuel delivery.
The Triplex pump is self-priming and capable of metering fuel flow with <1% error.
Hybrid Transmuter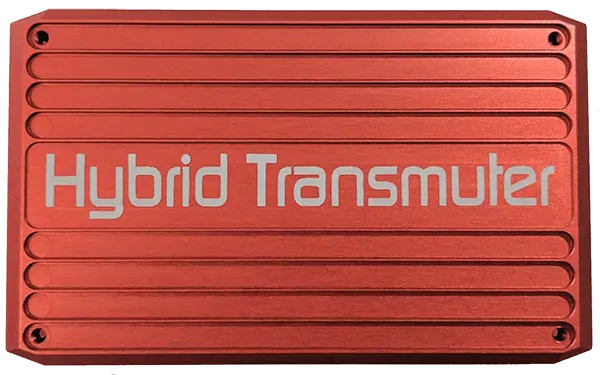 The Currawong designed Hybrid Transmuter maintains a balance of energy flow through the system, managing battery charging and the changing load requirements of the UAV determining whether to deliver power from the engine to the batteries or from the batteries to the engine.
Based on the high power, high reliability Currawong Velocity ESC the Currawong Hybrid Transmuter provides the same unmatched level of robustness, testing and traceability.