AutoNaut is a leading designer and manufacturer of autonomous wave-propelled unmanned surface vehicles (USVs). Powered by renewable energy and incorporating our proprietary Wave Foil technology, our state-of-the-art marine vessels are ideal for a wide range of data acquisition and monitoring applications, providing persistent operation even in the harshest of maritime environments.
AutoNaut Unmanned Surface Vehicles
AutoNaut 3.5 and AutoNaut 5 USVs
With renewable wave power, sensors powered by solar power and intelligent rechargeable battery management, AutoNaut USVs provide long-endurance, zero carbon emission operation with no fuel costs. Our unique Wave Foil technology converts energy from the pitch and roll of the hull into thrust, with four keel-mounted foils propelling the vessel forwards.
The rugged hull, constructed from a glass epoxy resin infusion, and woven carbon fibre mast allow the lightweight yet tough unmanned vessels to survive a variety of sea states and weather conditions. The reliable self-righting design ensures continued mission success even in 65 kt storms with 10-metre waves.
Our autonomous vessels can be monitored from shore via Wifi/UHF, Iridium SBD/RUDICS, or Inmarsat Fleet Broadband. Operators can check health, view incoming data and remotely control the USV all in near-real time.
AutoNaut USVs can be rapidly launched and recovered from a slipway or vessel, requiring only two operators and a single-point lift. With only a few moving parts, the vessel is near silent with practically zero noise interference, providing ideal conditions for sensors such as USBL (Ultra-short-baseline) and LBL (Long-baseline) underwater acoustic positioning systems.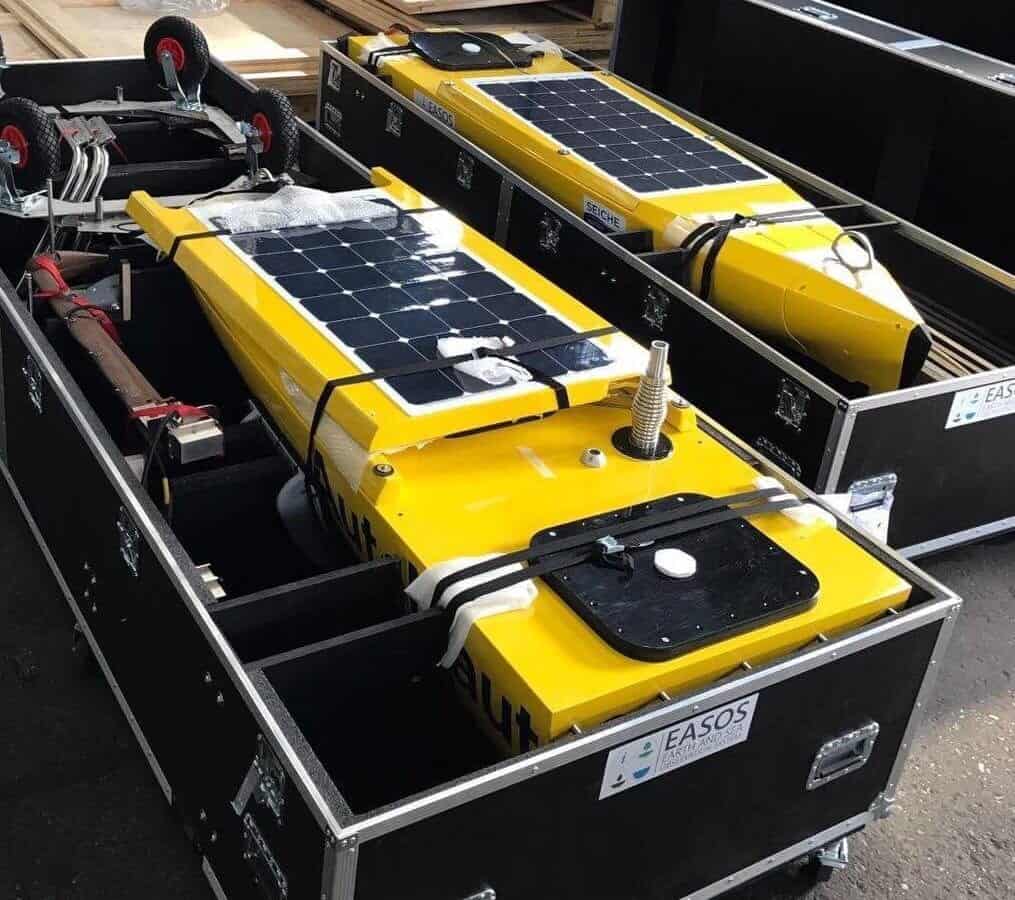 The easily-transportable AutoNaut 3.5 can accommodate a single large sensor, while the larger AutoNaut 5 can be equipped with several payloads for flexible mission solutions.
Specifications
| | | |
| --- | --- | --- |
| | AutoNaut 3.5 | AutoNaut 5 |
| Length | 3.5 m | 5.0 m |
| Beam | 0.67 m | 0.8 m |
| Mast Height | 1.5 m | 2.0 m |
| Total Draft | 0.56 m | 0.8 m |
| Displacement | 150 kg | 230 kg |
| Solar Panels Peak Output | 175 W | 300 W |
| Speed | 1 – 3 knots | 1 – 3 knots |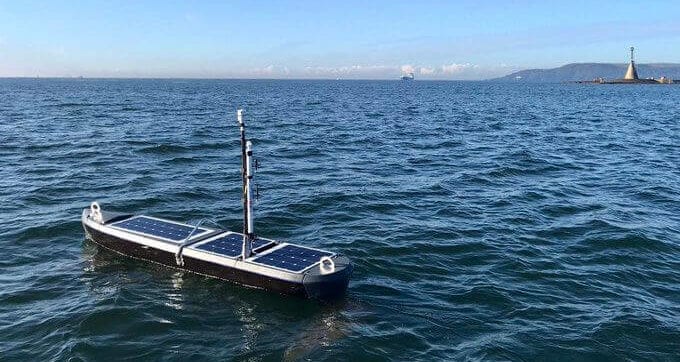 Meteorological & Oceanographic Monitoring
With their long-endurance capabilities and ease of deployment, AutoNaut USVs are ideal for a wide variety of meteorological and oceanographic monitoring missions. The unmanned vessels can either act as a station-keeping buoy for weather monitoring, or conduct survey transects and measure a range of environmental conditions.
Passive Acoustic Monitoring
Featuring near-silent operation, AutoNaut USVs are ideal platforms for Passive Acoustic Monitoring (PAM). When equipped with hydrophone sensors, the unmanned vessels provide a mobile, low-noise solution for marine acoustic surveying, including unobtrusive monitoring of marine mammals.
Water Quality Monitoring
AutoNaut USVs can monitor important indicators of water quality, including conductivity, salinity, dissolved oxygen, chlorophyll levels, pH, turbidity and dissolved organic matter.
Communications Gateways
The AutoNaut 3.5 USV can be configured as a long-duration surface communications gateway and information hub, featuring a range of sensor options and the ability to harvest data and provide links to autonomous underwater vehicles (AUVs), seafloor communications and sensor nodes, and other subsea assets. Information can be relayed over-the-horizon via satellite link.
Marine Life Monitoring
With silent capabilities, zero emissions, and the ability to operate autonomously for weeks at a time, AutoNaut USVs are ideally suited for monitoring of fish populations, coral reef conditions and other marine life surveying.
Surveillance
The persistent and silent operation of AutoNaut USVs make them capable maritime surveillance platforms, providing ISR (Intelligence, surveillance and reconnaissance) and ground-truthing of satellite remote sensing. Advanced payloads include electronic emission detectors, thermal imaging systems, and cameras for capturing video and still images both above and below the waterline.
USV Sensors & Payloads
AutoNaut USVs are available with a variety of state-of-the-art payloads and sensors, enabling flexible mission capabilities for many different applications.
Weather Stations
WindSonic Wind Sensors – 2-axis ultrasonic wind measurement outputting true speed and direction
AirMar Ultrasonic Weather Stations – outputs apparent & true wind, barometric pressure, air temperature, GPS location
Vaisala PTB110 Barometer – features accurate barometric pressure measurements over a wide temperature range
CS300 Pyranometer – compatible with most Campbell Scientific dataloggers and designed for continuous, long-term, unattended operation in adverse conditions
Oceanography
YSI EXO2 Water Quality Sonar – measures conductivity, salinity, dissolved oxygen, chlorophyll levels, pH, turbidity and dissolved organic matter
Valeport Mini-CTD Probe – features a variety of pre-programmed sampling modes, and available in both 6000m titanium and 500 acetal versions
Oxygen Optodes – high-accuracy absolute oxygen concentration measurement without repeated calibrations with a response time of <8 sec
ECO Triplet Flurometer and Back-scattering Sensor – measures RGB scattering and chlorophyll/CDOM/phycoerythrin/phycocyanin/rhodamine/uranine (fluorescein) fluorescence
Acoustic Doppler Current Profiler (ADCP)
Teledyne Marine Workhorse Monitor ADCP – high-reliability four-beam solution with extreme accuracy
Nortek Signature 1000/500 – designed for costal surveying, turbulence and current studies, and sediment transport studies
Wave Measurement
Anderaa Motus Wave Sensor 5729 – provides accurate measurement of wave characteristics, with a high sampling rate and the ability to distinguish direction of swells and wind driven waves
Passive Acoustic Monitoring
MicroPAM Monitoring and Mitigation System – miniature rugged system with interchangeable hydrophone cables for single or multi-sensor arrays
AutoNaut's Open Source Sensor Interface (OSSI) also allows customers to easily integrate custom or third-party sensors into our USVs using various data protocols, with full control. This highly versatile capability provides customizable onboard logging and data processing options, as well as adaptable communications modules including GSM, WiFi, Bluetooth, and Iridium/Inmarsat satcom.
Regional Offices & Locations
AutoNaut
AutoNaut Ltd,
Unit A2, Chichester Marina, Chichester, West Sussex PO20 7EJ, UK
+44 (0)1243 511 421
Contact
Send Message
Website