FlyDragon Drone Tech has detailed the specific design features of the FDG30 Mako Shark that help enable the VTOL UAV to achieve ultra-long endurance flights of six hours. Designed for aerial surveying and surveillance applications, the electric UAV combines the launch and landing advantages of a multirotor with the endurance of fixed-wing aircraft.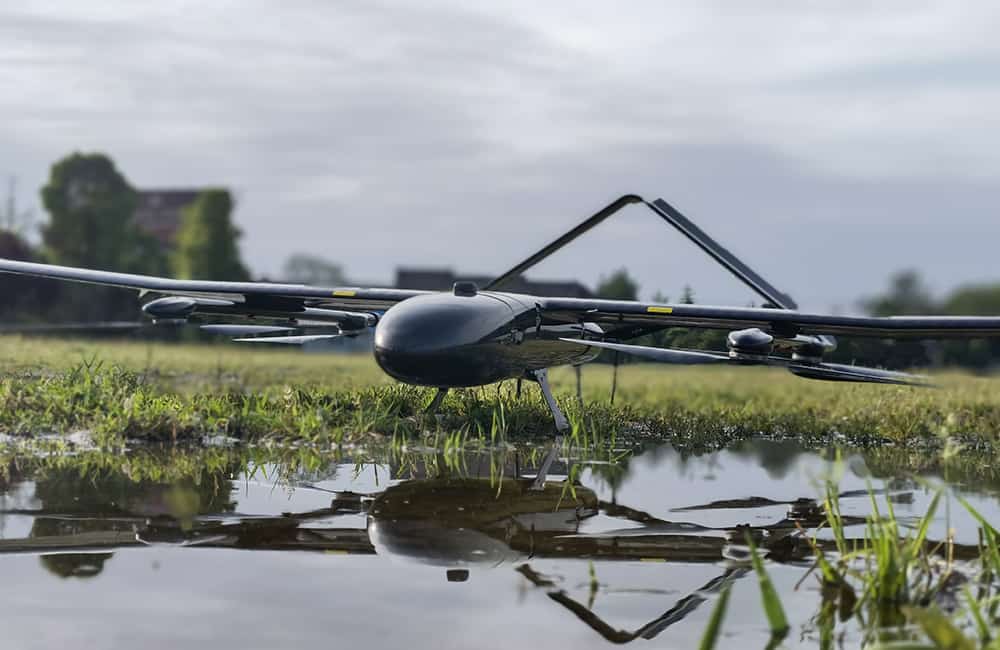 Notable design features which facilitate the ultra-long endurance of the FDG30 Mako Shark electric fixed-wing VTOL drone include the placement of the air intake, which is located below the drone facing the airflow, doubling the intake when climbing.
The rear end has been designed to be conductive to the intake of the propellers, thereby increasing the efficiency of the power system; and the landing gear has been constructed using aluminum alloy, making it both lightweight and capable of absorbing energy on impact, and so reducing any damage caused by heavy landings.
Additional features include:
Innovative Fixed-Wing Aerodynamic Design
Classic pneumatic layout: the double tail brace layout has been carefully optimized and streamlined, with each part rounded to reduce air resistance.
High wing aspect ratio: thin wings with a high wing aspect ratio for improved stability during vertical take-off and landing.
Optimized wing design: the outer wing is upturned to improve the flight path stance and stability.
Large rudder surface: enlarged aileron and tail rudder surfaces are conducive to lift, flight path corrections and improve wind resistance.
Multi-Rotor Optimization
The large wheelbase improves stability during vertical take-off and landing.
Downward set rotors improves rotor efficiency and aids airflow.
The optimized power system means that the FDG30 Mako Shark VTOL only uses about 60WH per take-off and landing, minimizing the requirement for batteries and reducing weight and space in the process.
The ultra-light, low rotational inertia propeller increases stability and makes the FDG30 suitable for frequent acceleration and deceleration.
The special paddle tip design reduces noise by one third.
Structural Design
Modularity: the main components are designed with a detachable modular design instead of a folding solution, meaning that individual parts can be directly replaced. Two types of nose, rotor rod and tail have been developed to maximize the ease and flexibility of the modular design.
Quick release: the main parts are connected by metal rigid buckles aiding connection, whilst the built-in elasticity reduces loosening.
Universal hanger design: with dual guide rails and screw hole arrays, the hanger can be quickly assembled and disassembled, making it relatively easy to integrate and quickly replace multiple payloads.
Integrated core avionics: with control located at the bottom of the wing, the airspeed sensor, rotor ESC, GPS, and magnetic compass are permanently fixed removing the need for connectors and improving reliability.