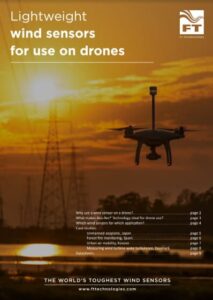 FT Technologies has released a brochure that provides an overview of the advantages of using wind sensors on UAVs (unmanned aerial vehicles), and also details the company's Acu-Res ultrasonic technology.
Download the full brochure here, or visit this page for more case studies featuring FT Technologies wind sensors
The brochure covers:
Why wind sensors are useful for UAVs
How Acu-Res ultrasonic technology has been developed with drones in mind
Case study – an unmanned fixed-wing seaplane
Case study – forest fire monitoring
Case study – urban air mobility (UAM)
Case study – measuring wake turbulence around wind turbines
An overview of the FT205 and FT742-SM wind sensors for UAVs
FT Technologies' low-SWaP (size, weight and power) ultrasonic wind sensors are ideal for integration into drone platforms for a wide variety of missions. To find out more, download the full brochure here.