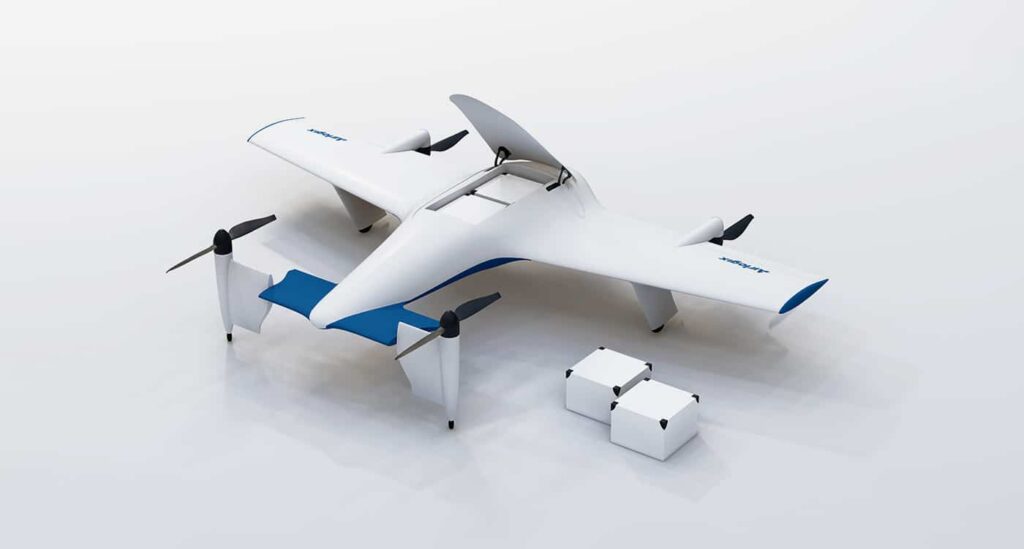 Airlogix, a leading provider of delivery UAV (unmanned aerial vehicle) solutions for flexible cargo and logistics deliveries, has partnered with Unmanned Systems Technology ("UST") to demonstrate their expertise in this field. The 'Silver' profile highlights how their delivery drones solve logistics problems for a wide variety of essential applications such as healthcare, search and rescue (SAR), construction, and utilities.
The Hammerhead eV20 is an electric vertical take-off and landing (eVTOL), tilt-rotor drone built for middle-mile delivery missions. Featuring autonomous operation, the cargo UAV combines the advantages of quadcopters and fixed-wing platforms, with the ability to switch seamlessly from VTOL and hovering to highly efficient forward flight.
With a top speed of 90 km/h, the Hammerhead eV20 can carry up to 20 kg of critical cargo for distances of up to 100 km. Powered solely by batteries, the eVTOL aircraft is emissions-free and delivers flight times of up to an hour. The platform can withstand significant gusts of wind and can be operated in costal and offshore environments.
The advanced cargo UAV includes a built-in LiDAR altimeter and an IR-Lock sensor for precision landing, as well as ADS-B for enhanced situational awareness.
A comprehensive ground control and fleet management software suite is included, turning any laptop into a convenient ground control station (GCS). Communication methods include 915 MHz radio, 3G/4G/5G cellular, and optional SATCOM.
To find out more about Airlogix and their electric VTOL cargo delivery UAVs, please visit their profile page: https://www.unmannedsystemstechnology.com/company/airlogix/