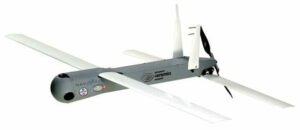 Raytheon's BBN Technologies has announced that, under DARPA's Offensive Swarm-Enabled Tactics program, it is developing technology to direct and control swarms of small, autonomous air and ground vehicles. The technology includes:
a visual interface that allows "drag and drop" creation and manipulation of drone tactics
a game-based simulator to evaluate those tactics
a physical swarm testbed to perform live tactics evaluations
"Operators use speech or gestures to control the swarm. This is a tremendous advantage during operations," said Shane Clark, Ph.D. and principal investigator on the program. "The system provides sensor feeds and mission status indicators for complete situational awareness."
The flexible, scalable programming software and simulation environment means users can coordinate drone behaviors in teams composed of different vehicle types that use various sensors.
DARPA is inviting additional organizations to participate in OFFSET as "sprinters" through an open Broad Agency Announcement. Sprinters can create their own novel swarm tactics and the Raytheon BBN team will work with them to evaluate the tactics in simulation, and possibly field them for live trials.
In 2016, Raytheon, as part of the Office of Naval Research LOCUST program, conducted demonstrations that successfully netted together 30 Coyote UAVs in a swarm.