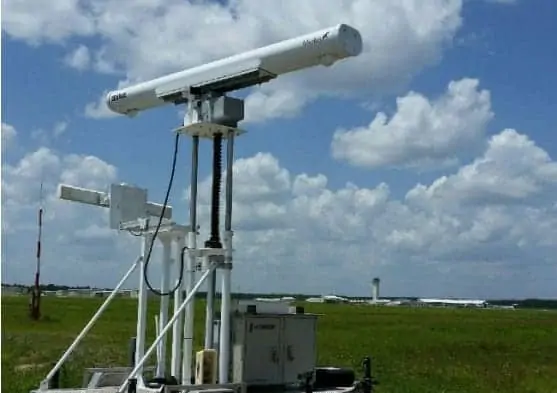 Northwest Florida Beaches International Airport (ECP) has announced that, in partnership with DeTect, a provider of aviation security and safety solutions, it has completed the installation of a dual function MERLIN Aircraft Birdstrike Avoidance Radar and a DroneWatcher Drone Detection and Defense system called DroneWatcher DSR.
The DroneWatcher DSR provides a third layer of drone detection and defense for the airport. The DSR additionally functions as a bird radar providing real‐time bird‐aircraft strike risk alerts to airport flight safety managers. Drone incursion alerts and birdstrike risk alerts are provided to airport users via custom, real‐ time web displays and through automated text messaging.
The company had previously installed DroneWatcherRF sensors and APP enabled devices at the airport as phase one of the project. The radar sensor installation completes the full system implementation to provide real time detection, tracking and automated alerting of both bird and drone strike risk to aircraft.
"At ECP we are constantly striving to go above and beyond to ensure the safety and security of our passengers and staff. DeTect's systems are the perfect way to do just that.", said Parker W. McClellan Jr., airport Executive Director. "Our partnership with DeTect offers the airport cutting edge technology that will enhance safety measures, and we are proud to say we're the first to do it".
Bird activity and drone situational data, incursion alerts and risk levels are delivered to airport users through custom, real‐time web displays and by automated text messaging. With this installation, ECP claims to be the first commercial airport in the world to install a dual bird‐drone detection radar system.
MERLIN is currently the only bird radar being used operationally by air traffic controllers to issue real‐time birdstrike risk alerts to pilots. With the add‐on DroneWatcher module and RF sensors, the MERLIN system additionally detects, locates and interdicts drones and operators, allowing the technology to address the emerging threat to aircraft from drones operating near airports.
DeTect's President and CEO Gary Andrews said. "ECP is one of the first airports in the US to install a comprehensive drone detection system. We are pleased that our technology is being used to create probably one of the safest airports in the country."