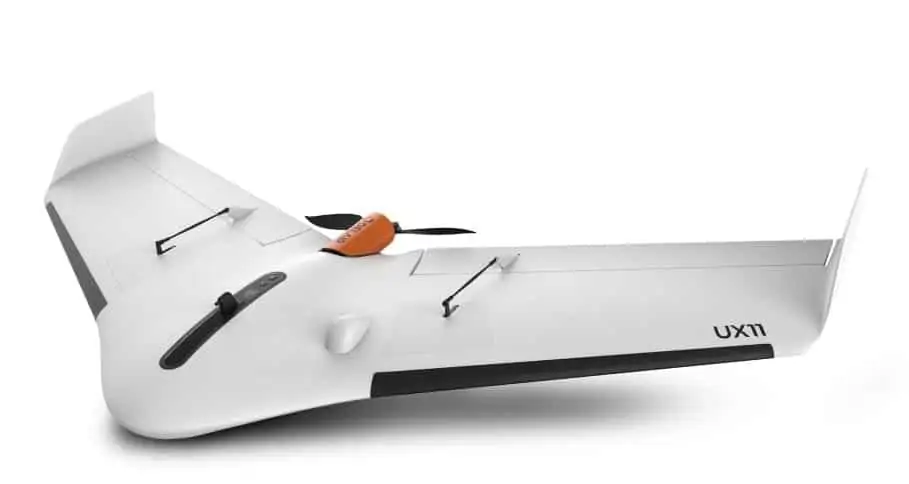 Delair has announced the introduction of its next-generation professional unmanned aerial vehicle (UAV) for survey-grade photogrammetric mapping, the UX11, at the Commercial UAV Expo 2017 in Las Vegas, Nevada, USA. The new UX11 is a sleek, fixed-wing airframe with a fully-integrated camera which enables data to be consulted in real-time, while in flight, and allows for onboard data processing capabilities.
Find suppliers of Fixed Wing UAVs >
The UX11's communications system includes a proprietary line of sight radio with up to 3 km range and 3G/4G connectivity between the ground control station and the UAV using a worldwide machine-to-machine pre-paid plan in partnership with Telefonica. Building on DELAIR's experience with beyond visual line of sight (BVLOS) operations, this next-generation communications system makes the UX11 ready for BVLOS flights with unlimited range and adds a new level of safety in the communications link. Delair claims that the system has the best coverage and resolution specifications for flights at 122 m (400 ft) altitude above ground level.
"The UX11 by DELAIR is the ultimate solution for geospatial professionals that demand large-area mapping with centimeter-level precision," said Michael de Lagarde, DELAIR's CEO. "We basically have the only small UAV in the world capable of accessing and processing pictures taken in real-time. We can, for instance, customize compression and create quality checks and controls (for example, blur detection or overlap checks) that will be done in real-time. We can even think about doing some early stage photogrammetry calculations and applying deep learning algorithms."
The UX11 is lightweight with an ultra-stable aerodynamic design, and is easy to hand-launch at takeoff, landing precisely where planned using distance measuring technology. It is equipped with optional PPK GNSS for centimeter-level precision and accuracy. New user-friendly Android mission planning software includes innovative features such as support for in-flight camera feedback and live data review. Made to help professionals in GIS, survey, and construction optimize area coverage per flight, the UX11 flies for 59 minutes across a range of conditions and altitudes.