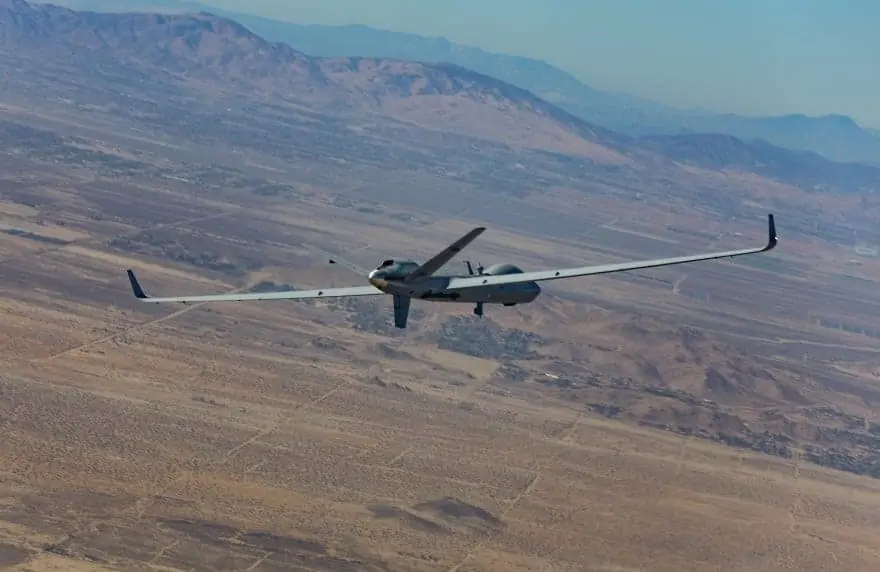 General Atomics Aeronautical Systems (GA-ASI) has announced that its new MQ-9B SkyGuardian Remotely Piloted Aircraft (RPA) system, a "Certifiable" (STANAG 4671) version of its Predator B product line, has set a company record with the longest endurance flight of any Predator-series aircraft.
Configured in an Intelligence, Surveillance, and Reconnaissance (ISR) "clean wing" mode, the company-owned MQ-9B aircraft took off from Laguna Airfield at Yuma Proving Grounds, Arizona, with 6,065 pounds of internal fuel. The aircraft flew between 25,000 and 35,000 feet for the duration of the mission and landed 48.2 hours later with 280 pounds of reserve fuel. The company's previous endurance record was held by Predator XP, which flew 46.1 hours in February 2015.
"This long-endurance flight is not only a significant achievement for our MQ-9B SkyGuardian aircraft but also a very timely landmark event for our company as we celebrate 25 years of aviation innovation this year," said Linden Blue, CEO, GA-ASI. "GA-ASI continues to push the envelope with versatile, reliable, cost-effective, and combat-proven RPA systems and sensors, and this latest feat is a testament to our industry legacy."
Development of MQ-9B began in 2012 as an internally-funded effort. The endurance flight is the continuation of a test program that began with the successful first flight last November. GA-ASI is currently building three company-owned aircraft and plans to deliver the first production aircraft next year.
The SkyGuardian version of the "Certifiable" Predator B has been designed to operate under the stringent airworthiness requirements of non-military airspace. The weaponized variant of the system is being acquired by the United Kingdom Royal Air Force under the Protector program. A maritime patrol variant, SeaGuardian, is designed to support open-ocean and littoral surface surveillance. All three variants are designed to fly in excess of 35 hours with airspeeds up to 210 knots and reach altitudes of more than 40,000 feet.