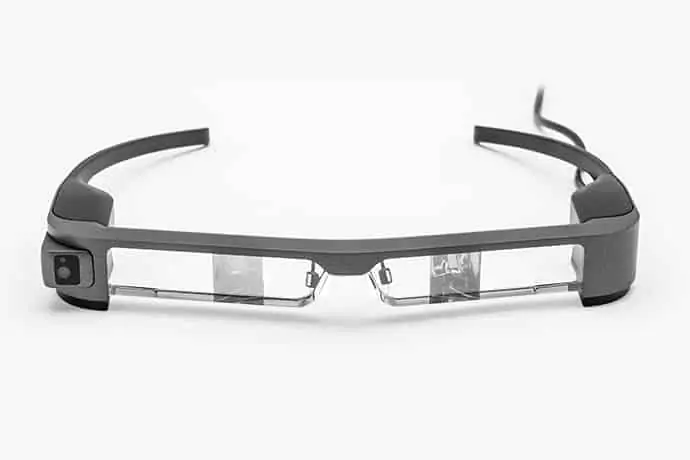 Epson has announced the availability of its Moverio BT-300 augmented reality (AR) smart eyewear platform. The new AR platform is designed for software developers working with augmented reality, and the Drone Edition of the glasses is optimized for use with DJI unmanned aerial vehicles (UAVs).
The Moverio BT-300 is a lightweight Si-OLED (organic light emitting diode) digital display technology binocular smart glasses platform. Featuring Epson's silicon-based Si-OLED digital display technology, the glasses are powered by the Android 5.1 OS and run on a quad core Intel Atom™ X5 processor. The Moverio platform enables developers to create life-like 3D AR experiences, while being more than 70% lighter than Epson's first-generation glasses. A 5 mega pixel front-facing camera and on-board sensors enable the Moverio BT-300 to recognize objects in the real world. The Si-OLED projection system can then seamlessly render 3D content in the real world, with no display background or edges in the field of view.
"Now in our sixth year in the Augmented Reality eyewear space, Epson's Moverio platform has driven interest and sales increases exponentially year after year. Our newest Moverio BT-300 will certainly drive our business to new highs," said Eric Mizufuka, product manager, New Ventures for Epson America. "We're especially excited to be partnered with DJI to make flying a safer and more productive experience. We firmly believe that UAV is our killer application."
The Moverio BT-300 Drone Edition comes pre-loaded with the DJI GO app for use with most DJI hardware. The Drone Edition glasses feature clip-on dark shades for use in bright sunlight as well as special fasteners that secure the Moverio controller onto the DJI phone mount for easy operation.
With the Moverio BT-300 Drone Edition, UAV pilots are able to experience crystal clear, transparent first person views (FPV) from the drone camera while simultaneously maintaining their line of sight with their aircraft. The FAA has maintained the rule that UAVs must remain within the visual line-of-sight (VLOS) of the remote pilot.