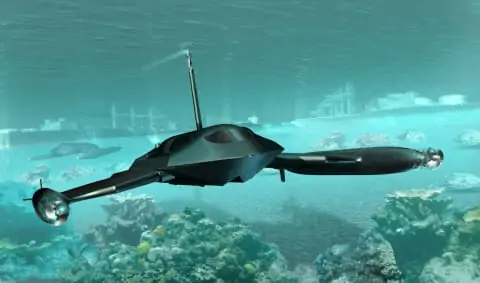 Juliet Marine Systems, Inc. has announced plans to construct Guardian, a submersible unmanned surface vehicle (USV) that is a variation of JMS' existing GHOST vessel and that offers a unique suite of capabilities in a single platform. The GHOST is a small waterplane-area twin-hull (SWATH) vessel for the safe transport of personnel and payloads.
Gregory Sancoff, President and CEO of JMS, said, "We believe Guardian is the first surface vessel that is a fully submersible USV and one that will meet or exceed the USV mission needs of navies around the world at relatively low cost. We expect it to transform the way navies fulfill their operational requirements in maritime technology and provide greater capacity in littoral operations, with a host of multi-mission capabilities encompassing intelligence, surveillance and reconnaissance (ISR); mine hunting; and anti-swarm, short-range firepower. There is no other platform like this in the world."
Incorporating drag reduction technology tested and proved in the GHOST vessel and powered by a diesel powertrain with a hybrid electric drive, Guardian is intended for surface and subsurface operations, either manned or unmanned. It will extend 30 to 45 feet in length with a top speed of 35 knots when operating in surface mode with four feet of draft in the water. The vessel, which can be manufactured in 18 to 24 months, is designed for easy maintenance with standard systems and can be easily transported via sea, air and land. Guardian's design can be reconfigured to meet a customer's specifications and is designed to provide a smooth, stable ride to save the operator from heavy impact in rough seas.