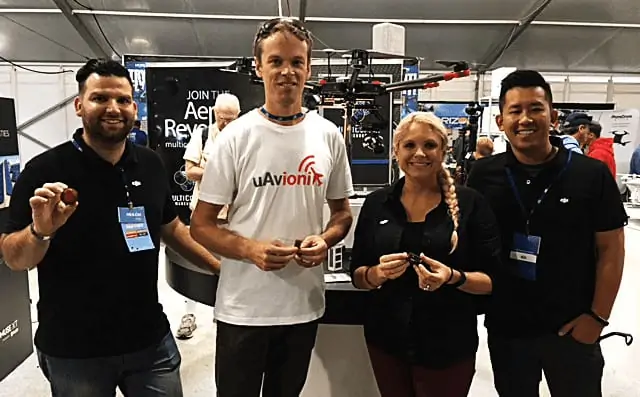 DJI and uAvionix Corporation have announced that they will collaborate on an ADS-B based collision avoidance developer kit, to help integrate drones into the United States national airspace system and help keep the skies safe.
"DJI and uAvionix share a passion for safety and are motivated by the improvement that real-time air traffic information will provide to our developers using our software development kit," said DJI VP of Engineering, Darren Liccardo. "DJI developers will now be able to process ADS-B data and close the loop all within an embedded computer onboard the vehicle."
The uAvionix line of "Ping" sensors are the smallest and lightest ADS-B based hardware available for unmanned aircraft. The Ping ADS-B receiver allows a drone to sense surrounding aircraft and initiate collision avoidance maneuvers based on that information. The DJI Onboard Software Development Kit (SDK) enables this interaction by providing a flexible means of accessing the drone's flight control systems. Developers can now create customized applications that use Ping ADS-B data to implement collision avoidance to suit their needs.
"Working in concert with the DJI Onboard SDK, our aircraft avoidance technology will provide a more complete picture of potential conflicts in the airspace," said Paul Beard, uAvionix' Founder and CEO. "Through our collaboration, DJI and uAvionix will add the necessary synergy and momentum behind safely integrating drones in the national airspace."
Adding Ping ADS-B into a collision avoidance system can help prevent conflicts if a drone pilot loses situational awareness, operates too close to other aircraft or inadvertently strays into restricted airspace. A drone paired with the uAvionix ping2020 transceiver can transmit its position to surrounding aircraft and air traffic control, helping integrate drones into the national airspace. uAvionix' Ping transmitter network marries with existing radar systems to provide manned aircraft pilots with early warning of drones operating in their vicinity.
DJI leads the consumer drone industry in safety advances. Three years ago, DJI pioneered geofencing technology for drones to help prevent inadvertent operation in unauthorized areas. Earlier this year, DJI released the Phantom 4, the first consumer drone with integrated obstacle avoidance technology. The new partnership with uAvionix further establishes DJI's commitment to innovation and safety in new ways by combining the technical knowledge and inventive spirit of the two leaders in their respective fields.