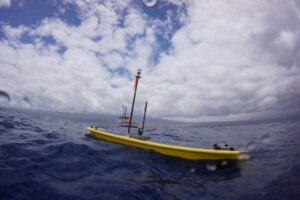 Liquid Robotics, Inc., a manufacturer of unmanned ocean robots, has announced the Liquid Robotics Open Oceans Partner Program, a global technology program designed to accelerate the creation, integration and deployment of new technologies and applications for unmanned ocean systems. Building upon the Wave Glider®, the world's first wave and solar powered ocean robot, this program offers participating partners a comprehensive suite of open integration and development tools, web services, APIs, training and services as well as access to the first Open Linux, JAVA based Operating Environment and a scalable IP Backplane designed for unmanned maritime systems. The Open Oceans Partner Program enables leading sensor, software and integration partners to leverage the Wave Glider's open platform to rapidly develop and deliver repeatable maritime solutions not possible or practical with today's conventional approaches — while generating new revenue opportunities for their business.
"We are at the forefront of a technology revolution for the ocean," stated Gary Gysin, president and CEO of Liquid Robotics. "At Liquid Robotics we're bringing the open systems, rapid innovation model of Silicon Valley to a maritime world of special purpose systems. Working with our partners, we will create entirely new solutions for defense, commercial and scientific customers by opening up access to the world of maritime systems."
The Open Oceans Partner Program is an important expansion of the Company's overall partner strategy to collaborate with industry leaders to provide extensible, high value, and affordable solutions built upon the Wave Glider platform. Schlumberger and Boeing Defense, Space and Security are two of the Company's strategic partnerships driving solutions for the oil & gas and defense markets, respectively. For the maritime domain awareness market, Liquid Robotics and Ultra USSI have been collaborating on new unmanned surface vessel detection systems critical to battle illegal poaching and smuggling along the World's coastlines.
"The combination of the Liquid Robotics Wave Glider and Ultra Electronics USSI's acoustic sensor technology offers innovative new ways to extend the maritime surveillance and security capabilities of government and commercial organizations worldwide," said Joe Peters, President of Ultra Electronics USSI. "The Wave Glider's open systems platform simplifies and provides a greater range of design approaches to apply technology to solving specific customer problems."
In addition to Ultra Electronics USSI, Liquid Robotics is working with other global leaders on innovative integration and development projects spanning environmental and climate monitoring, fisheries science and security. The inaugural Open Oceans Partners are Ultra Electronics USSI (UK), EMS (Spain), OceanTech (South Korea), Sea Technology Services (South Africa), BioSonics, Inc. (US), Fastwave (Australia) and UVS (Australia).