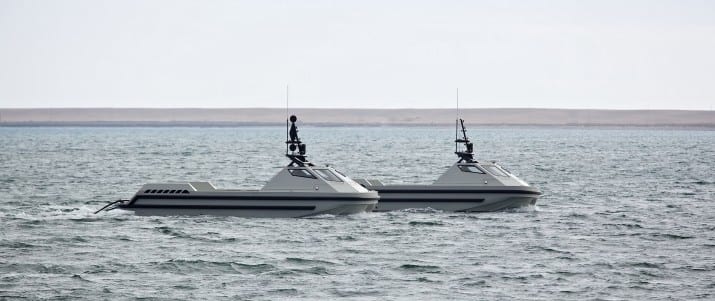 Atlas Elektronik UK, a provider of technology solutions to the UK Ministry of Defence (MoD), has announced that it has been awarded the first phase, worth £13M, of a £28M contract by the MoD to supply an Autonomous Minesweeping Capability to the Royal Navy (RN). These Unmanned Surface Vessels (USV) will create underwater influences to detonate mines in a controlled manner. The contract will be executed over the next 5 years to restore minesweeping capabilities to the RN.
Two ARCIMS systems have been delivered to an overseas navy, so this contract with MoD builds on the ARCIMS Mission System fitted with the latest generation of Minesweeping Payloads. The system will include autonomous "Sense & Avoid" capability to enable safe operations at sea. The benefits of these modern unmanned sweeping systems are that they can safely clear sea lanes from mines therefore removing the "man from the minefield".
The ARCIMS mission system (based on a specially designed 11 metre vessel) can be transported easily by road, rail or military aircraft. It can be operated from shore with the minimum of support or launched and recovered from an RN Hunt Class Mine Countermeasure Vessel (MCMV).
The role of Atlas Elektronik UK's key partner Babcock will be to provide the equipment handling, launch and recovery systems, as well as the requisite structural design, platform system integration and support to the operational safety case. Babcock will also provide the operational training package.
The system will be integrated by BAE Systems within their NAUTIS command system that is installed on all of the RN MCMV's.
Philip Dunne MP, Minister of State for Defence Procurement, said: "This contract is an important step forward in enhancing the Royal Navy's ability to defeat sea-mines whilst reducing risks to our service personnel. It also represents an important development in the Royal Navy's ability to exploit its international expertise in Maritime Minesweeping and to advance its capabilities in the emerging world of maritime autonomous systems.
"This sophisticated equipment with a range of capabilities will enable our Armed Forces to undertake consistently effective operations and mine clearance in challenging environments," Dunne added.
Antoni Mazur, Managing Director of Atlas Elektronik UK, stated: "Winning this important Autonomous Minesweeping contract is another significant milestone for us as we continue to expand our business. We welcome working with DE&S to develop the RN mine warfare autonomous capability for the future. This demonstrates AEUKs continuing ability to develop, supply and support cutting edge technology from our MoD R&D."
Jeff Lewis, Babcock's Defence Systems Technology Managing Director, added: "We are delighted to have been awarded this contract as a partner of Atlas Elektronik UK, to provide a fully integrated handling, launch and recovery system solution for this key capability."