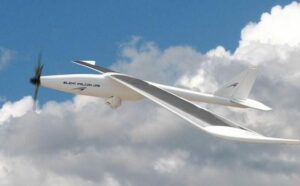 Silent Falcon™ UAS Technologies (SFUAS), a former subsidiary of Bye Aerospace, Inc., working in close collaboration with Ascent Solar, has announced that it has commenced initial low-rate commercial production of the Silent Falcon™ unmanned aircraft system to fill its first commercial orders.
The patent-pending Silent Falcon™ is a solar-electric, all composite, modular small Unmanned Aircraft System (sUAS) with an interchangeable wing configuration designed for commercial, public safety and defense applications.
In 2010, Bye Aerospace created what is now SFUAS, capitalizing the company with a prototype electric unmanned aerial vehicle (UAV) and initial design work on solar electric hybrid propulsion. The combination of efficient aerodynamic design, lightweight composite construction and advanced solar energy collection gives the 30 lb. Silent Falcon™ UAS a remarkable 8+ hour flight endurance.
In 2012 SFUAS selected Ascent Solar Technologies Inc. to be a development partner and provide the solar cells on the Silent Falcon™ wings.
"Silent Falcon™ is the first solar-electric aircraft to enter commercial production. Its solar-electric design gives it unmatched performance and value in its class. Silent Falcon™ is taking and filling its initial customer orders," said John Brown, President of SFUAS.
"We are extremely pleased with the Silent Falcon™ aircraft's capability," said Joe Armstrong, CTO of Ascent Solar. "Its solar wings, based on our in-production, flexible, monolithically integrated CIGS photovoltaic product, are performing well, giving the propulsion system a significant source of lightweight electric energy and enabling the aircraft's unprecedented endurance. We are honored to be the supplier chosen for the production vehicles."
"Customer flight demonstrations are underway today. We believe Silent Falcon™ UAS has a large and growing military and international commercial market. Sales exceeding several hundred units per year are possible. Customers now have access to the remarkable capability of the Silent Falcon™ UAS for the first time," said George Bye, Chairman of Silent Falcon UAS and CEO of Bye Aerospace.